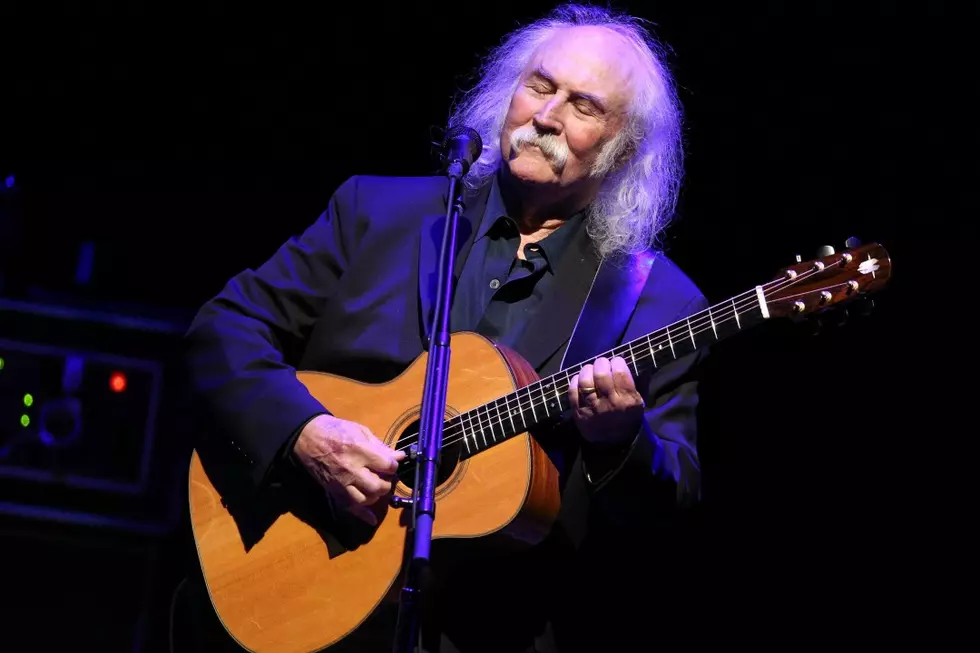 10 Things You Didn't Know About David Crosby
Imeh Akpanudosen, Getty Images
David Crosby shared his songs via a varied configuration of bands for decades.
Of course, he was most famous for his work with Crosby Stills and Nash (with occasional contributions from Neil Young, as well). Crosby helped define an era as part of that iconic collective, while consistently demonstrating how to compose memorable, timeless music.
But he stayed very much on the job, issuing a series of studio projects into the new millennium highlighted by a double album of all-new material in 2004 with old friend Graham Nash, and playing regular touring dates. In keeping, there is still plenty more to learn about this legend, who first rose to fame with the Byrds.
Don't believe us? Check out these 10 Things You Didn't Know About David Crosby ...
10

Although he was best known for his work in Crosby, Stills and Nash (etc.), David Crosby was previously also a founding member of the Byrds along with Roger McGuinn. Fans were regularly reminded of these early triumphs when Crosby performed a cover of their famous song "Eight Miles High" during his shows.

9

His Father Helped Make 'High Noon'

David's father Floyd Crosby had his own name in lights long before his son ever dreamed of being famous. He was an award-winning cinematographer for more than 100 movies, including the 1952 Western classic High Noon.

8

Crosby's Songwriting Tips 101: Write It Down!

Crosby said that one of the best tips he ever got came from "Woodstock" author Joni Mitchell, who complimented his songwriting – then ordered him to "write your shit down!" Crosby, who primarily composed on guitar, said he learned "if you get even two words in a row that mean something, that make you feel something, you should write them down."

7

Says He's No McCartney on Bass

In the formative days of the Byrds, Crosby quickly discovered that playing bass and singing was pretty difficult. In his 1988 autobiography, he compared the twin tasks to "being able to dial two telephones at once with both hands. All credit to Paul McCartney, I can't do it." He emerged from the experience to find that he was better suited to playing rhythm guitar while vocalizing.

6

Spent Time 'On an Island' With David Gilmour

In 2006, David Crosby and Graham Nash lent their signature harmonies to the title track for David Gilmour's On an Island album. The pair reprised their role on tour with the Pink Floyd legend, and the collaboration can be seen on Gilmour's Live from the Royal Albert Hall concert DVD.

5

Didn't Get Bob Dylan at First

Although he didn't like Bob Dylan's vocals right from the start, Crosby later heard Dylan singing "Blowin' in the Wind," and other concert staples and said watching Dylan "expressing the values systems that I respected" was an eye-opener. He later regarded Dylan as "one of the major poets of our time."

4

The Everly Brothers Brought Harmony to His Life

Growing up, Crosby absorbed a ton of classical music thanks to his mother's record collection. He also found a love for folk music and jazz, crediting those three musical genres as his main influences. His musical travels eventually led him to discover the Everly Brothers, who provided his introductory moment to pop music, and whose harmonies would greatly affect his own famous music.

3

A Proud Donor, and We're Not Talking Blood

In the late '90s, Crosby helped fellow rocker Melissa Etheridge and her then-partner Julie Cypher become parents, twice, through the process of artificial insemination. At the time of their birth, the identity of the donor was anonymous, but Etheridge later revealed in 2000 that their friend Crosby had been the benefactor.

2

Jim Morrison Taught Him What NOT to Say to Janis Joplin

David Crosby was once at a party with Jim Morrison and Janis Joplin, and witnessed Morrison telling Joplin that he didn't feel she could sing the blues. This was not received well. Janis – who shared a bill at Woodstock with Crosby Stills Nash and Young – picked up a bottle of Jim Beam and broke it on Morrison's forehead. Now that's some spunk!

1

'Wooden Ships' Was Secretly Written With an Airplane Captain

Crosby co-wrote "Wooden Ships" on his boat with both Stephen Stills and Jefferson Airplane's Paul Kantner, the latter of whom could not be credited at the time for legal reasons. The politically charged number was written as the Vietnam War was in full swing, and was one of the most socially conscious songs in the Crosby Stills and Nash catalog.