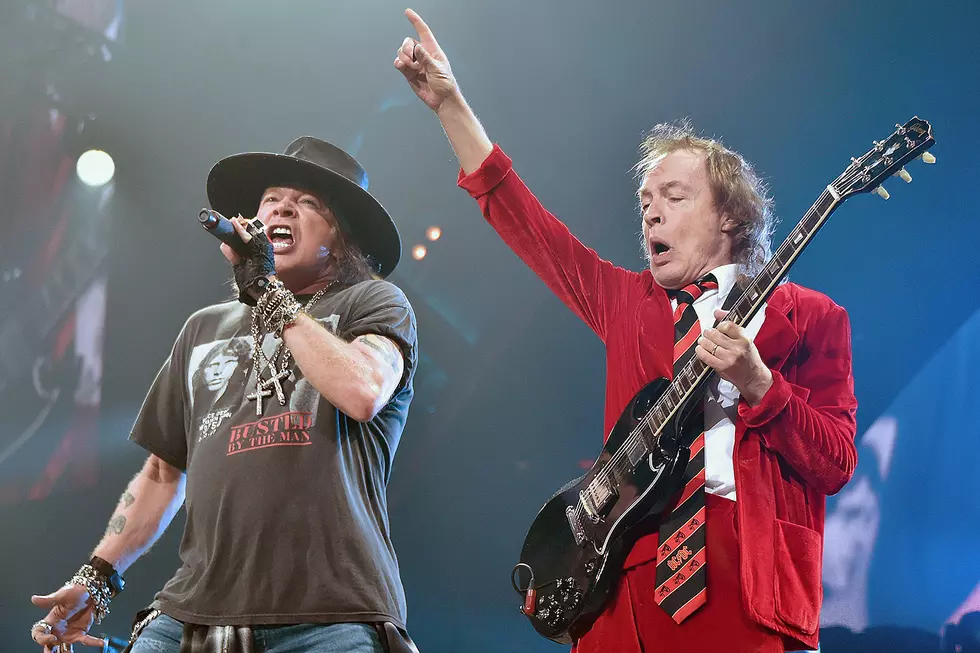 AC/DC's Angus Young Hasn't Written Music With Axl Rose
Mike Coppola, Getty Images
"Nothing really came out solid," Young said. "I know that he has a lot of things he's involved in. I don't even know if you would say it was music. But he had a lot of things that he was involved in."
Asked directly if they wrote any tracks, he added, "No, no. That never happened."
In a June 2016 Q&A session in London, Rose enthused about working with Young, and his comments led to wide fan speculation.
"I feel protective; I feel I do not want to let this guy down – more than almost anybody I've ever known – and I don't know why," the singer said. "And he's very responsive to me. And they said they hadn't seen him this happy, they hadn't seen him moving around [this much]. In between songs, he's playing other stuff [that has inspired potential new song ideas]. So that's kind of a neat thing between musicians."
Even if the duo never wrote any songs, Rose was instrumental in keeping AC/DC moving forward during a tough time — and four years after his live assist, the band (with Johnson) released their 17th studio LP, Power Up.
"Axl Rose contacted us [about filling in onstage]," Young told Rolling Stone. "I'll be forever grateful for him for doing that. He was very pro about doing it. He really gave a great performance."
Ranking Every AC/DC Album