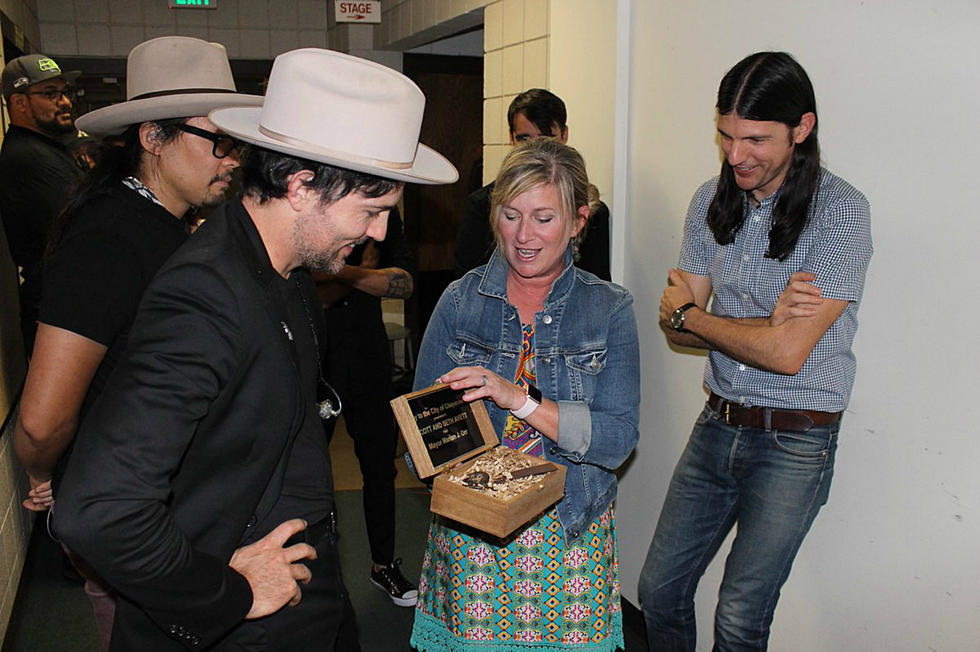 Avett Brothers Get Key To The City At Cheyenne Homecoming Concert
Photo Courtesy of Marian Orr Twitter
Cheyenne Mayor Marian Orr presented her first official "key to the city" last night to native son Scott Avett. It was a triumphant homecoming for the Avett Brothers singer who was born in Cheyenne and a special moment for his parents who also attended the concert.
When the band took the stage, they delivered a 26-song set including their first live performance of "Old Wyom" since 2011. Between songs, Scott Avett also shared the story of a family road trip where he and his brother Seth were spooked by a rattlesnake.
"We stopped here in Wyoming. My dad wanted to show us the house where we lived" he told the sold-out crowd at the Cheyenne Civic Center. "As soon as we hit the fence post, it was like (rattling sound). I was like, I'm in the van, I'll see you later."
To commemorate the homecoming concert, Scott collaborated with artist Brian Bojo for a limited-edition poster featuring lyrics from the song "Murder In The City".
Satan Pulls The Strings
Laundry Room
Live and Die
Neapolitan Sky
Aint' No Man
I Wish I Was
Murder In The City
You Are Mine
True Sadness
Rejects In The Attic
The Fall
Yardsale (first live performance since 2012)
I Would Be Sad
Beulah Land (cover)
It's Me (cover)
Vanity
Kick Drum Heart
Old Wyom (first live performance since 2011)
Talk On Indolence
Morning Song
Back Mountain Tag (cover)
The Clearness Is Gone
Lucky Stranger (cover)
Head Full Of Doubt/Road Full Of Promise
No Hard Feelings