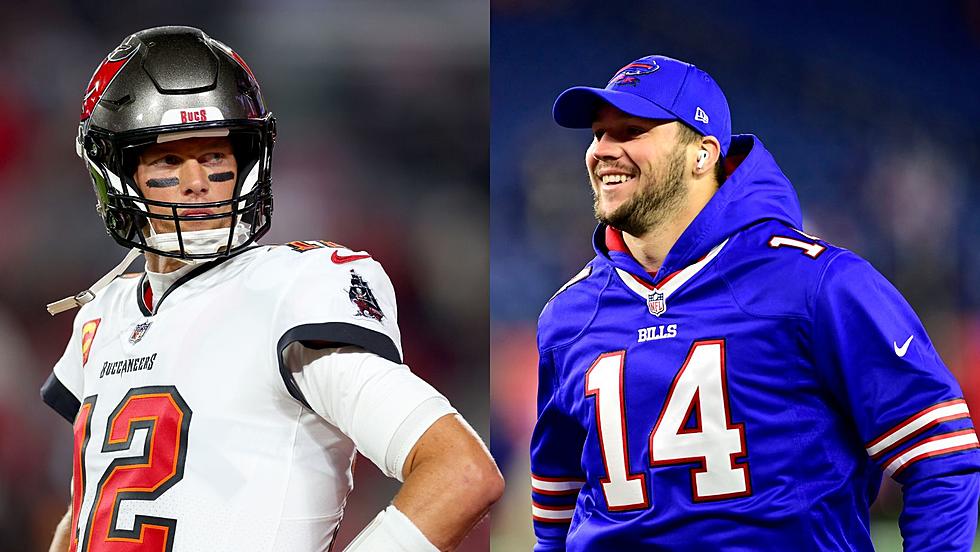 New Commercial Shows Josh Allen Alongside NFL Legends
Photo Credit: Getty Image
Josh Allen may be the most talked about NFL player in the league right now, and he's definitely a player to watch this season – even if you're not a Buffalo Bills fan. 
Allen is a quarterback that you want on your fantasy football team, one that makes other teams nervous, and one that NFL greats and legends from recent years are watching this season, because they want Allen to bring home a win to Buffalo. 
Listen to Clay & Company, Every Weekday Morning on 106.5 WYRK
And in case you are wondering, a handful of NFL legends know about Josh Allen, including former players Randy Moss, Emmett Smith, Dan Marino, and Jerry Rice. 
In Josh Allen's newest commercial, you can see all of those players alongside Josh for one of the funniest and best commercials you have seen. Honestly, it's Super Bowl ready, so hopefully this year is our year. 
The commercial is for Pepsi and for Frito-Lay, and it's very well done. 
You can watch Josh Allen's new commercial below. 
My favorite part is when Dan Marino runs up to Josh Allen on the field, and Josh seems to fangirl a little bit before realizing that Marino is out of breath as a result of running up and down the field. Allen just responded, "Dan Marino?" After Marino grunts, Josh showed serious concern when he calmly asked "You alright?"
The whole commercial felt more like a short film rather than an advertisement because of the plot behind it. Plus, the whole Brady comment at the end, poking fun at himself because he also "unretired" is so funny. (But really, Brady, don't go unretiring again…haha!)
After seeing Josh's newest commercial (and believe me, he has a lot of him), many people are obsessed with the selfie he took with Dan Marino while he was on the ground, asking if there could be a "selfie reveal" or if the photo was real. 
And after a quick zoom in, it looks like the photo does exist; however, this angle is a little fuzzy. 
Even West Herr tweeted about the selfie! 
11 Pictures of Why We Love Josh Allen
Will Josh Allen Be The New Logo For The NFL?
After noticing the change to the NFLtwitter page, Bills Mafia jumped on Facebook to talk through the possibility of Josh Allen's iconic jump becoming the new logo for the sport.
16 Buffalo Bills With Some Of The Best And Worst Nicknames