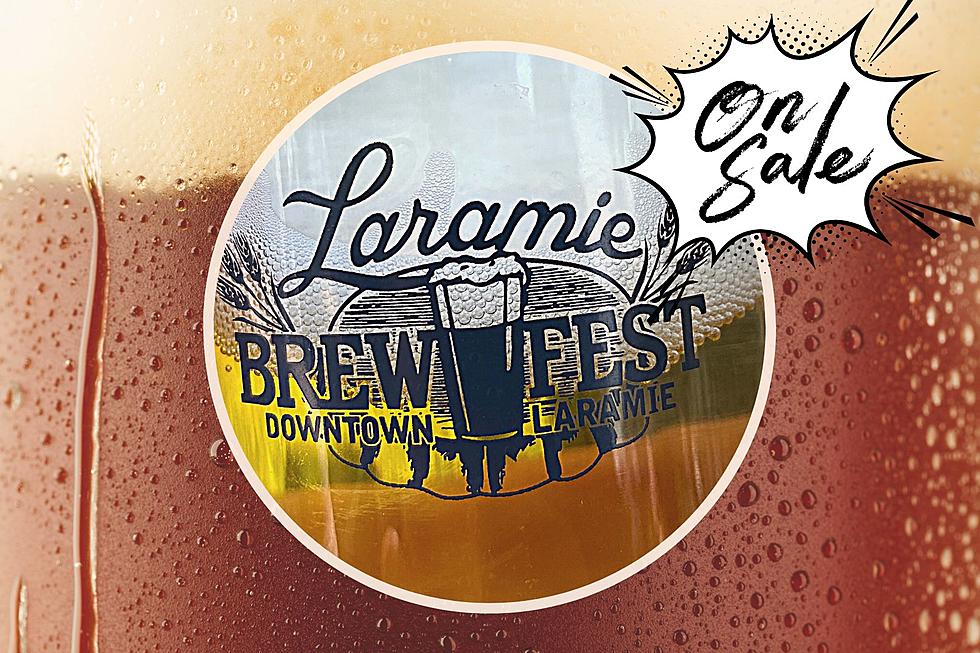 Oh Hoppy Day! 2023 Laramie Brewfest Tickets Now on Sale
Mat Ozee, TSM/Canva Pro
Few summer events draw my attention more than Laramie Brewfest. Craft beer, summer weather, and hanging out around Depot Park? That's my cup of tea...or should I say, my stein of lager?
For beer fans of Laramie and Wyoming, I have good news: Brewfest Tickets went on sale June 1. This year's event goes down on July 8 during Laramie Jubilee Days (July 1 to July 10.) If last year is any indication, you'll want to snag your V.I.P. passes soon because those babies sell out faster than you can say, "Prost!"
Check out a sneak peek of all Laramie Brewfest entails, plus a breakdown of what a V.I.P. pass gets you and a bit about the brewers attending this year:
2023 Laramie Brewfest Tickets
You have two options for tickets to Brewfest. V.I.P. tickets ($55) get you earlier access to the event (starting at 11:30 a.m.), while General Admission ($40 pre-sale) doesn't open until 1:30 p.m.
FREE Designated Drivers, Courtesy of Brewfest and Laramie Connections
Remember to have a D.D. ready before heading to Brewfest. Laramie Brewfest offers free rides home from 3 to 6:30 p.m. Brewfest's website says, "Look for a table and vehicles near the train depot - rides are first come, first serve."
Breweries at the 2023 Laramie Brewfest
This year's fest has a huge list of regional and national brewers coming to town! Your tastebuds will thank you after touring each tent, trust me.
10 Barrel Brewing - Bend, OR
Accomplice Brewing - Laramie/Cheyenne, WY
Altitude Brewery - Laramie, WY
Athletic Brewing Co. - San Diego, CA
Black Tooth - Sheridan/Cheyenne
Blue Raven Beer Co. - Cheyenne
Bootstrap Brewing - Longmont, CO
Bomb Beverage - Multiple Locations
Bond's Brewing - Laramie, WY
Boulevard Brewing Co. - Kansas City, MO
Coal Creek - Laramie, WY
Cody Craft Brewing - Cody, WY
Delirium - Belgium, Germany
Denver Beer Co. - Denver, CO
Freedom's Edge Brewing Co. -  Cheyenne, WY
Grand Teton Brewing - Victor, ID
Great Divide Brewing Co. - Denver, CO
Golden Road Brewing - Los Angeles, CA
Gruner Brothers Brewing - Casper, WY
Kona Brewing Co. - Kailua-Kona, Hawaii
Lagunitas Brewing Co. - Petaluma, CA
Lefthand Brewing Co. - Longmont, CO
The Library Sports Grille & Brewery - Laramie, WY
Laramie Home Brew Club - Laramie, WY
Melvin Brewing - Alpine, WY
Odell Brewing Co. - Fort Collins, CO
Prost Brewing - Denver, CO
Roadhouse Brewing Co. - Jackson Hole, WY
Rooster's Brewing Company - Layton, Utah
Sierra Nevada - Chico, CA
Snake River Brewing - Jackson, WY
Stone Brewing - Escondido, CA
Toppling Goliath Brewing Co. - Decorah, IA
Upslope - Boulder, CO
Wind River Brewing Co. - Pinedale, WY
WYOld West Brewing Co. - Powell, WY
Wyoming Craft Brewers Guild - Sheridan, WY
For more info on Laramie Brewfest, click here.
Laramie's Tot-ALE-y Cool Local Breweries
Check out the local libations created right here in Laramie, Wyoming.
Yesteryears of Historic Downtown Laramie Captured in Photos
Take a step into the past and discover the yesteryears of Laramie. Wyoming was one of the last states to join the Fifty Nifty, being number 44 in the Union. Laramie began its township journey in the 1860s, largely influenced by the construction of the Union Pacific Railroad and Fort Sanders.