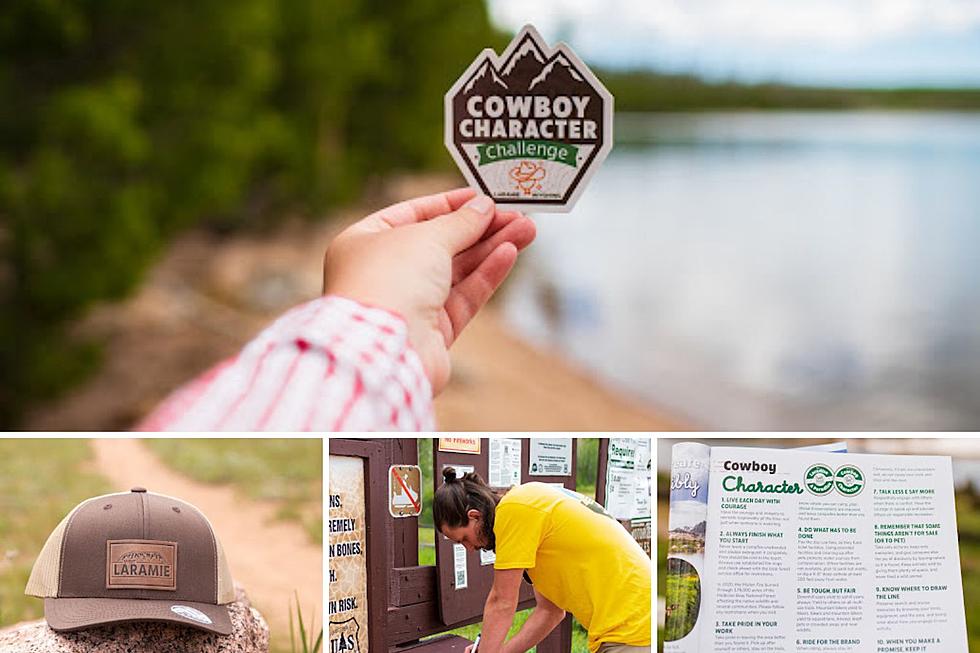 Explore, Adventure, & Win Laramie's Cowboy Character Challenge!
Photos Courtesy of Visit Laramie via Sarah Haugen
Get outside and win cool swag with the 2nd annual Cowboy Character Challenge. Participants (who are 18+) check in at various trailheads, campgrounds, and recreation center ambassador businesses to receive a multitude of prizes. The goal is to encourage responsible recreation by promoting safety and minimizing the impact on our outdoor areas. 
Sara Haugen of VisitLaramie says that the challenge promotes outdoor engagement and stewardship in several ways:
"The program is built around the Cowboy Code of the West, Wyoming's official code of ethics. Participants in the challenge learn to show 'Cowboy Character' as each of the 10 principles applies to outdoor recreation. These align with the standard Leave No Trace principles intended to reduce impacts on our public lands."
When participating in the challenge, recreators are asked to check in at lesser-known trailheads and campgrounds, which helps with crowd dispersion and reduces pressure at high-traffic trailheads and campgrounds. 
This also increases engagement and awareness of underutilized recreation areas in the county. "Recreation ambassadors" are also possible check-ins; outdoor recreation businesses (like West Laramie Fly Store) for adventurers to learn more about engaging in outdoor activities responsibly in Wyoming.
There are three completion tiers with several prizes. The first tier is a sticker, the second a Laramie travel mug or Nalgene, and the third is a Range Leather hat. A grand prize winner will be selected on Sept. 30.
Last year's random grand prize winner was Sienna Wessel, who checked in at 16 locations on her pass. She was awarded a grand prize valued at $1,250, including a YETI 75 hard cooler from Ace Hardware, a one-day machine rental and dinner for two from Albany Lodge, a traveler bag and turtle rock fanny pack from Atmosphere Mountainworks, a one-day paddleboard rental from The Paddle House, and a pair of cowboy socks from Actionball Boardsports.
Haugen said this year's challenge has even more perks, "like full trail descriptions and maps thanks to a partnership with Al and Rebecca Walsh at Lone Moose Ski Shop." These trail descriptions and videos "can help people plan their hiking, avoid trails outside their skill level, and give people trail information and offline map functionality on the go as they hike, whether or not they have cell service. Hopefully, this helps save a few search & rescue calls."
To participate, download the "Visit Laramie" Adventure Planner app on Apple or Android.
10 Tips to Keep Cool During Wyoming Summers
Suffering through Wyoming's hot weather and heatwaves can pose a risk to your health. The good news is, that there are a lot of ways to beat the heat and its effects.