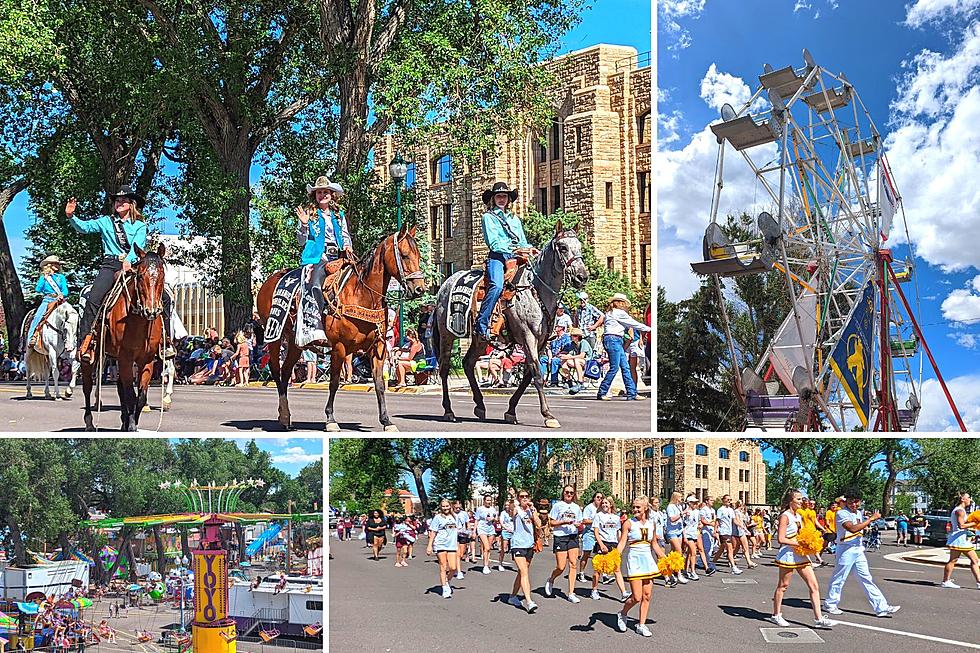 Top 10 Laramie Jubilee Days Events You Won't Want to Miss!
Phylicia Peterson, TSM SE Wyoming
There are a lot of activities planned during the week of Jubilee Days. Get as many as your stomach and wallet can fit in. Below are some of the key events, with many being free. For the complete list, visit the Official Jubilee Days schedule here. 
Ranch Rodeo 
Quintessential Wyoming Wild West fun. Ranchers and cowhands compete for pride in this scramble-style rodeo. See the real work that happens on a ranch and who does it the best. 
When: Sunday, July 2 at 10 a.m.
Where: Albany County Fairgrounds
Cost: FREE
Freedom Has a Birthday
The park party is a Laramie staple. Meander through the park, perusing local food vendors, community information booths, bounce houses, live music, lots of free kid activities, and more. 
When: Tuesday, July 4, 10 a.m. - 4 p.m.
Where: Washington Park
Cost: FREE
Fire in the Sky
What's the 4th of July without fireworks? The City of Laramie and WyoTech put on a bangin' show worth keeping the kids up for. Grab the picnic blankets, camping chairs, or the back of a truck and watch the fun. 
When: Tuesday, July 4 at 10 p.m.
Where: Fireworks at 22nd & Armory Road; park to view the sky above it. Some roads will be closed in the area. Nearby parks offer excellent viewing.
Cost: FREE
Carnival
Ah, the joys of eating cotton candy and potentially losing it as you ride the zipper. Rides, games, slushies, and sticky fingers, for four days. 
When: Wednesday, July 5 - Saturday, July 8; varying times.

Click here for the schedule. 

Where: Downtown Laramie
Cost: Tickets are available for purchase.
The Block Party
Live music will be heard most days downtown during the Jube and even swing lessons. But the Buckhorn Block Party is the big one.  
When: Friday, July 7, 7:30-10:30 p.m.
Where: Buckhorn Bar
Cost: FREE

; drinks for purchase.
Chili Cookoff
Sample some chili before you find your parade seat. Red, green, mild to spicy–it's all there. 'Sample' is the keyword. Otherwise, it could make for an uh...uncomfortable parade. 
When: Saturday, July 8, 8 a.m.
Where: Downtown Laramie
Cost: FREE
Parade
One of the best parts about Jubilee Days is the parade—candy and costumes for the kids, conversation, and community for the adults. 
When: Saturday, July 8 at 9:30 a.m. 
Where: Route starts on 3rd and Canby, travels east on Grand to 9th, and back to Canby. 
Cost: FREE
Brewfest
Another staple of the Jube: the beer! So many good local and regional brews to celebrate. Purchase a wristband, leave the pets and strollers at home, and enjoy refreshing beverages. 
When: Saturday, July 8 at 1 p.m.
Where: Depot Park 
Cost: Wristbands $40; mingling free.



Country Swing Lessons
If you're going to be dancing downtown, you might as well make sure you're doing it right. 
When: Saturday, July 8 at 5 p.m.
Where: Downtown
Cost: FREE
Rodeo    
Plenty of rodeo opportunities during the Jube from Mr. T to PRCA. Sunday is the last performance round to finish a fantastic few days of bulls, blood, dust, and mud.
Best Moments From the 2022 Jubilee Day Parade
Relive the fun and #WyomingPride of the 2022 Laramie Jubilee Days Parade.