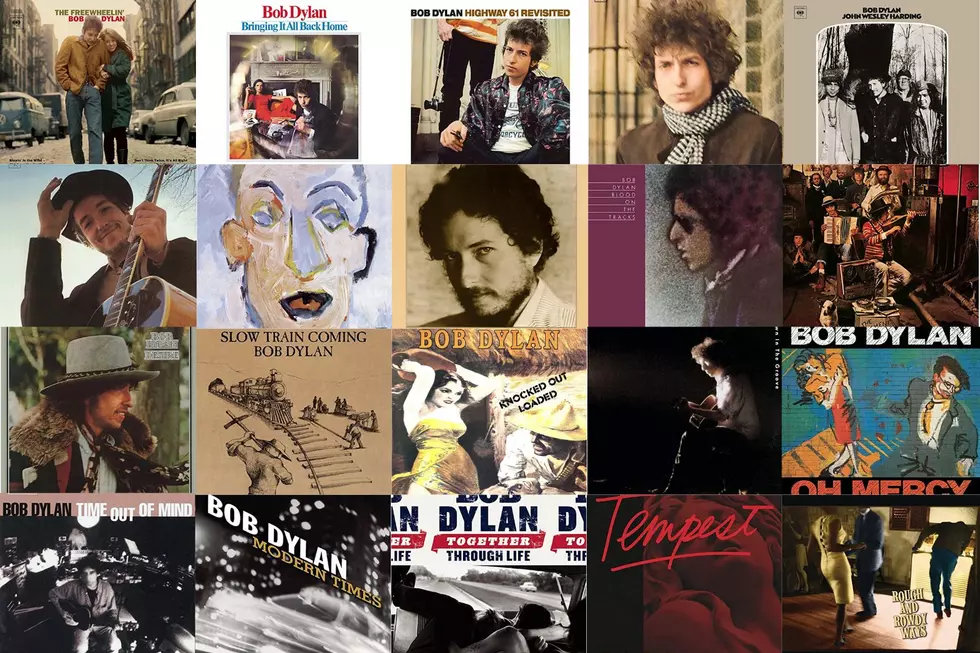 The Stories Behind 20 Bob Dylan Album Covers
UCR
"Art is the perpetual motion of illusion," Bob Dylan told Rolling Stone in 1978. "The highest purpose of art is to inspire. What else can you do? What else can you do for anyone but inspire them?"
Famous for creating much and explaining little, Dylan has dipped his toes into just about every form of art there is: music, literature, painting, theater, film. But if art is the perpetual motion of illusion, then Dylan has been moving swiftly for some six decades, perhaps most clearly displaying this sentiment on the covers of his albums.
Some feature depictions of himself that seem to encapsulate the moment in time — his stark stare on the front of 1966's Blonde on Blonde or guileful grin on the cover of 1969's Nashville Skyline. Other LPs feature Dylan's brushstrokes (he has painted canvases since the '60s) or photographs of strangers taken from entirely different eras.
Other individuals have appeared alongside Dylan on the covers of some of his most famous albums, like the red-dressed, cigarette-smoking woman on 1965's Bringing It All Back Home, or the hodgepodge group surrounding him on 1975's The Basement Tapes. In true freewheelin' spirit, there have also been instances where one image was selected, only to be replaced at the last moment with something different.
Each Dylan album has a distinctive cover design. We're taking a look at the backstories for 20 of them.
The Stories Behind 20 Bob Dylan Album Covers
Looking back at the artwork chosen by the famously enigmatic songwriter.
Odd Couples: Bob Dylan and Michael Bolton