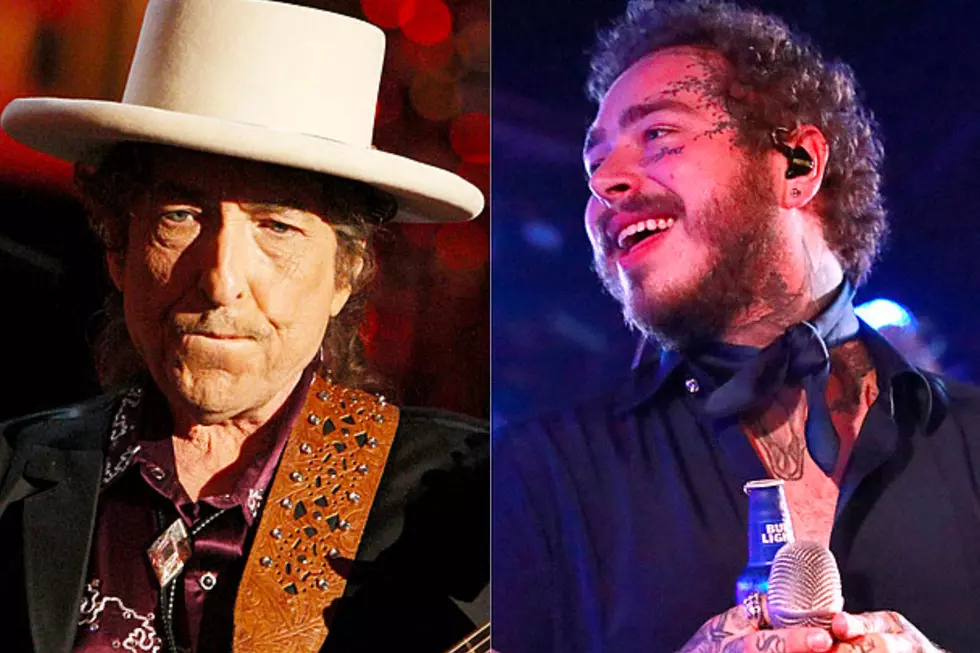 Bob Dylan's Collaboration With Post Malone Still Isn't Finished
Kevin Winter / Rich Fury, Getty Images
Bob Dylan gave some lyrics to rapper Post Malone during the pandemic, and while a song collaboration was started, it was never finished.
Post Malone, Bob Dylan Superfan
A few years ago producer Michael Cash had an idea: What if Bob Dylan's songs were recorded by hip-hop artists like Malone, Kendrick Lamar and J. Cole? Cash was inspired by 2014's Lost on the River: The New Basement Tapes, a collection of Dylan songs re-interpreted by artists like Elvis Costello, Marcus Mumford, Rhiannon Giddens and others.
He called up that album's producer, longtime Dylan collaborator T Bone Burnett. "So I said to T Bone," Cash recently recalled to Rolling Stone. "'Would you mind if I did The Attic MP3s or something? I want to fuck with this whole archetype.' And he goes, 'Run with it.'"
READ MORE: The Best Song From Every Bob Dylan Album
One of the first steps was contacting Dylan's manager, Jeff Rosen; he pitched the idea of Malone, a huge Dylan fan, covering a song. Cash sent Rosen a picture of Malone's Dylan tattoo and a link to his version of "Don't Think Twice, It's All Right."
Listen to Post Malone's Cover of Bob Dylan's 'Don't Think Twice, It's All Right'
Bob Dylan Approved Post Malone Collaboration ... Then Took It Back
Weeks later, he got a reply: "It was like two o'clock in the morning," he said. "Jeff texts me: 'Bob's going to write you something. He's got something in mind that he wants to craft specifically for this.'" Rolling Stone noted, however, that "a source close to the Dylan camp" said Dylan already had the lyrics written.
The song was called "Be Not Deceived," with lyrics about "a loss of innocence" that Cash said brought Malone to tears. In March 2021, Malone went to Cash's studio in upstate New York to record the song, but according to Cash, they only got about 40% of it done. Because the work petered out, Rosen took back the lyrics, and so far no additional work has been done on the song.
In 2022, Malone appeared on The Tonight Show and noted that while he and Dylan had never met in person, they'd "chatted."
READ MORE: The 10 Weirdest Bob Dylan Songs
"He's always just been a voice in my head," Malone said. "I've always just appreciated the music and appreciated the songwriting."
"My hopes are that Mr. Dylan and Mr. Rosen give back the right to use the lyrics," Cash concluded. "I would like it if the record gets finished. ... So maybe it got weird, but this is two really important musicians that I feel put the work in and it needs to be shared."
Bob Dylan Albums Ranked
Not so surprisingly, Bob Dylan's recording career has lots of ups and downs. That's bound to happen when you stick around for more than 50 years and release three dozen albums during that time.