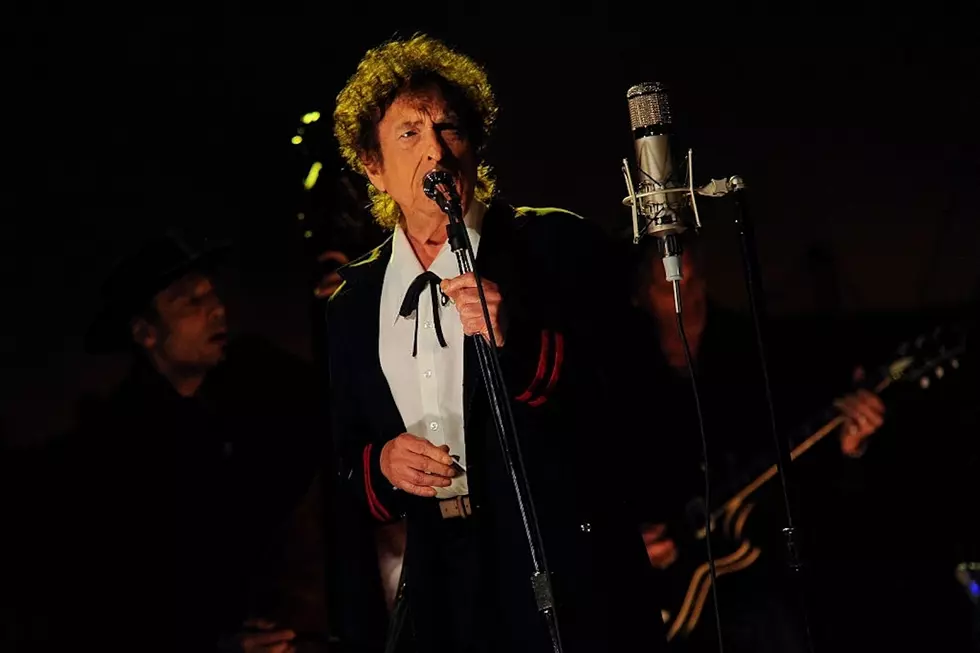 Bob Dylan Keeps Adding Surprising Songs to His Live Shows
Jeffrey R. Staab, CBS via Getty Images
Bob Dylan is known for shaking up his set lists, often rearranging and reimagining his classic songs to such a degree that they end up not sounding at all like their recorded versions.
His current set lists focus on songs from his most recent album, 2020's Rough and Rowdy Ways, as well as a few classic cuts like "When I Paint My Masterpiece" and "Most Likely You Go Your Way and I'll Go Mine" tossed in.
But Dylan isn't just finding new ways to his old songs; he's also been covering cuts from artists like Grateful Dead and Van Morrison. And he keeps adding surprise songs to his live shows, several of which he's never performed before. We take a look at some of those 2022-23 tour highlights below.
"Friend of the Devil," Grateful Dead
Dylan's history with Grateful Dead stretches back to the summer of  1987 when they went on a six-date tour together, which resulted in the live album Dylan & the Dead. But Dylan didn't debut his live cover of "Friend of the Devil," from the Dead's 1970 LP American Beauty, until 2022, giving it a slower, more languid feel.
"That Old Black Magic," Johnny Mercer
"That Old Black Magic" isn't exactly a new cover for Dylan; he included the Johnny Mercer and Harold Arlen classic on his second standards album, 2016's Fallen Angels. But when he played it in Denver in July 2022 — the closing night of his tour's U.S. leg — it was the first time he played it live since 2017. When Dylan launched the European run of the tour, the song earned a regular spot in the set list.
"I Can't Seem to Say Goodbye," Jerry Lee Lewis
Dylan doesn't usually acknowledge what's going on across the world at his concerts. But when Jerry Lee Lewis died on Oct. 28, 2022, he broke the silence. "Jerry Lee's gone, and we're going to play this song – one of his," Dylan said just before he and his band launched into 1970's "I Can't Seem to Say Goodbye." "Jerry Lee will live forever. We all know that."
"Truckin,'" Grateful Dead
"Truckin'" sounds a little like a Bob Dylan song, with its wordy verses and rough-and-tumble characters, so it's no surprise he's covered it. He debuted his version in Tokyo in April 2023, several months after he wrote about the song in his book, The Philosophy of Modern Song. "The Grateful Dead are not your usual rock 'n' roll band," Dylan noted. "They're essentially a dance band. They have more in common with Artie Shaw and bebop than they do with the Byrds or the Stones. Whirling dervish dancers are as much a part of their music as anything else. ... With most bands, the audience participates like in a spectator sport. They just stand there and watch. They keep a distance. With the Dead, the audience is part of the band – they might as well be on the stage."
"Brokedown Palace," Grateful Dead
Just a few days after he debuted "Truckin'," Dylan performed another Grateful Dead song from American Beauty, "Brokedown Palace." He first attempted the song on April 14, 2023, but fell out a few minutes in. "I thought I knew this song," he said before moving into his "Melancholy Mood." Four days later, Dylan tried "Brokedown Palace" again and made it all the way through.
"Not Fade Away," The Crickets
Buddy Holly's "Not Fade Away" is a rock 'n' roll staple. First recorded by Holly and his band the Crickets, the song has been covered by Grateful Dead, the Rolling Stones and Rush over the years. Dylan performed it in April 2023, the first time he's done so in more than a decade. His history with Holly dates back to January 31, 1959, when an 18-year-old Dylan saw Holly perform in Duluth just a few days before he died in a plane crash. "From the moment I first heard him, I felt akin. I felt related, like he was an older brother," Dylan would explain in his 2016 Nobel Prize acceptance speech. "He was the archetype. Everything I wasn't and wanted to be."
"Only a River," Bob Weir
Keeping with the theme of Grateful Dead covers, Dylan has also performed "Only a River," a deep cut from Dead co-founder Bob Weir's 2016 solo album, Blue Mountain. "I am speechless," the song's co-writer, Josh Ritter, posted on Twitter after he learned of Dylan's cover. "I wrote that song in the stairwell of my dorm in college, 25 years ago. Music is a blessed traveler."
"Into the Mystic," Van Morrison
Bob Dylan and Van Morrison have covered each other's songs for decades; in 2002, Dylan covered Morrison's "Carrying a Torch" six times. They've also toured together and for a time were both Woodstock residents. "Every time we'd drive past Dylan's house ... Van would just stare wistfully out the window at the gravel road leading to Dylan's place," Morrison's wife at the time, Janet Rigsbee, once noted. "He thought Dylan was the only contemporary worthy of his attention." In June 2023, Dylan performed the classic "Into the Mystic" for the first time.
"Stella Blue," Grateful Dead
Dead and Company might have announced the end of their touring career, but Dylan appears to be picking up the torch just fine. On June 23, he brought out a cover of the Dead's "Stella Blue" from 1973's Wake of the Flood. Dylan may have selected it seeing as it was the late Robert Hunter's birthday, co-writer of the song.
"West L.A. Fadeaway," Grateful Dead
In June 2023, Dylan revisited a Dead tune he often included in his '90s set lists, "West L.A. Fadeaway" from 1987's In the Dark, the same year Dylan toured with the Dead. The last time Dylan played this song was in 1999 with a special guest, bassist Phil Lesh.
"Bad Actor," Merle Haggard
Back in 2005, Dylan toured with the legendary Merle Haggard, who would later tell Rolling Stone he was thinking about doing an entire album of Dylan covers. This did not come to fruition, but in 2015, speaking as that year's 2015 MusiCares Person of the Year, Dylan strangely noted that "Merle Haggard didn't think much of my songs." Haggard addressed this on social media not long after: "Bob Dylan I've admired your songs since 1964." "Bad Actor" was released in between all of that, on Haggard's 2010 album, I Am What I Am.
Bob Dylan Albums Ranked
Not so surprisingly, Bob Dylan's recording career has lots of ups and downs. That's bound to happen when you stick around for more than 50 years and release three dozen albums during that time.