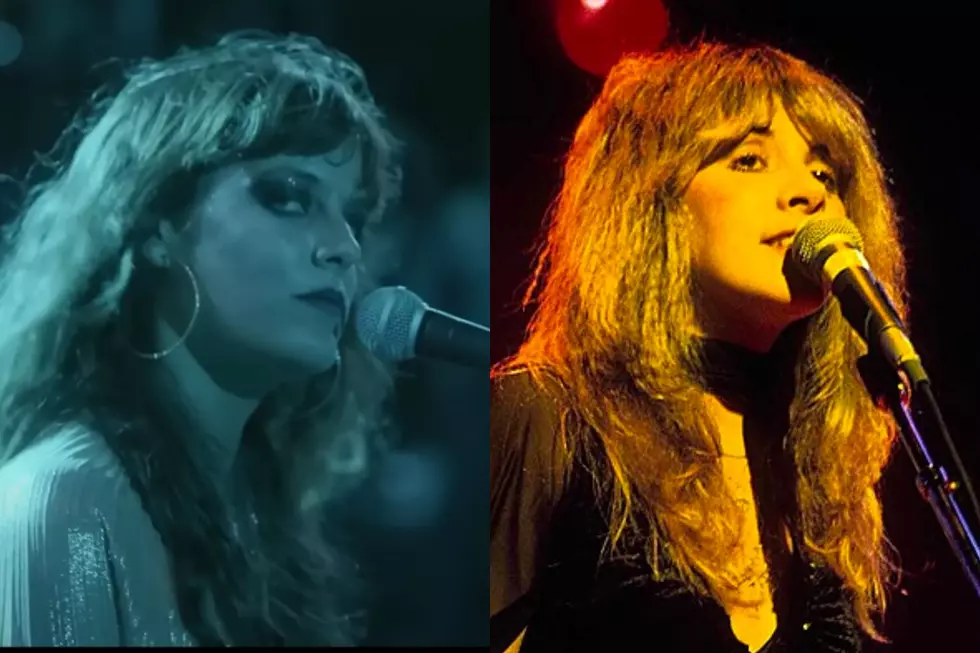 Everything We Know About the Fleetwood Mac-Inspired 'Daisy Jones'
YouTube / Ed Perlstein, Getty Images
Daisy Jones & the Six, a fictional, '70s-style rock band derived from the 2019 book of the same name, is gearing up to release an album called Aurora.
The LP features songwriting contributions from the likes of Jackson Browne, Phoebe Bridgers and Marcus Mumford, and includes the songs "You Were Gone," "Let Me Down Easy" and "Two Against Three." It's set for release on March 3, the same day a five-part miniseries, also titled Daisy Jones & the Six, will debut on Amazon Prime.
As one description of the book put it, Daisy Jones & the Six is about "the whirlwind rise of an iconic 1970s rock group and their beautiful lead singer, revealing the mystery behind their infamous breakup."
Sound familiar?
Daisy Jones & the Six was directly inspired by Fleetwood Mac, whose superstar status in the '70s, infused with romantic relationships, has become one of rock's most captivating legacies. It all started in 1997 when author Taylor Jenkins Reid was 13 years old. Flipping through TV channels, she stumbled upon clips from Fleetwood Mac's 1997 reunion, The Dance. One moment, in particular, stood out to Reid, in which Stevie Nicks sang "Landslide," accompanied only by Lindsey Buckingham onstage. Reid was unaware of the history of the band at that time but was mesmerized all the same by the way the two artists performed together.
"When I decided I wanted to write a book about rock 'n' roll, I kept coming back to that moment when Lindsey watched Stevie sing 'Landslide' - how it looked so much like two people in love. And yet, we'll never truly know what lived between them," Reid wrote in a 2019 essay for Hello Sunshine, the production company founded by Reese Witherspoon that offered to make the book into a TV series. "I wanted to write a story about that, about how the lines between real life and performance can get blurred, about how singing about old wounds might keep them fresh."
The book and TV show center on a fictional band called Daisy Jones & the Six attempting to record a hit album, a narrative loosely based on Fleetwood Mac's experience toiling over 1977's Rumours. But the book is not a biography; it doesn't claim to tell the story of Fleetwood Mac in any way.
Reid, in a position of control as the author, wanted the book to approach things a bit differently. "Seventies rock is a fun space to tell a story in, but it is dominated by white males," she told The Guardian in 2019. "I wanted to tell a story that felt authentic but focused on the people I'm interested in writing about: women and women of color. Daisy, the keyboardist Karen, Billy's wife Camila, Daisy's best friend Simone, a disco star very loosely based on Donna Summer – those were the most important characters for me. Making sure their experiences were the ones being centered was something I worked on draft after draft."
Daisy Jones & the Six premieres on Amazon Prime on March 3 and stars Riley Keough — Elvis Presley's granddaughter — as Daisy, plus Sam Claflin, Suki Waterhouse and Sebastian Chacon. The first track from the accompanying album, "Regret Me," is already available. The trailer for the series and track listing for Aurora can be seen below.
Nicks has previously addressed the idea of a film being made about her life, including the fact that it would be difficult to fit everything into one production. "It would be such a long movie," she said in a 2021 interview with Beyond the Influence Radio on Apple Music Country (via Louder Sound). She suggested perhaps writing "a really fun book" instead.
"I got through some pretty scary moments, but I saved me, nobody else saved me," she said. "I survived me. I survived my cocaine. I survived by myself. I checked myself into rehab. Nobody did that for me. I did it and that's like with my whole life. So, I would dance over those parts just to give the wisdom out to people, but mostly, I would just tell all of these really fun, funny stories that I've been telling you because those things I would love to share."
Nicks emphasized that she's not opposed to telling her story to fans even more than it already has. "I don't have a problem sharing what's happened to me in my life, because most of everything that's happened to me, I think has been pretty marvelous," she said. "So all that, I would love to tell people and really about all that, I'm not that private. I'm willing to sit and tell you the whole damn story."
Daisy Jones & the Six, 'Aurora' Track Listing
1. "Aurora"
2. "Let Me Down Easy"
3. "Kill You to Try"
4. "Two Against Three"
5. "Look At Us Now (Honeycomb)"
6. "Regret Me"
7. "You Were Gone"
8. "More Fun to Miss"
9. "Please"
10. "The River"
11. "No Words"
Rock Stars Whose Lives Are Being Turned Into Movies
'Bohemian Rhapsody,' 'Rocketman' and 'The Dirt' have opened the floodgates.