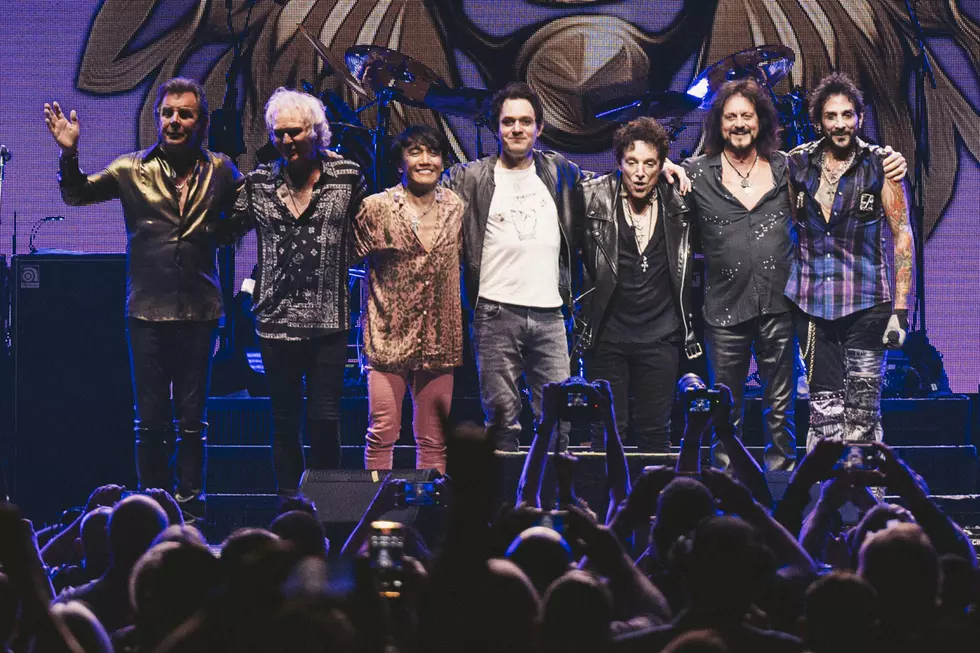 How Did Journey Survive Their 50th Anniversary Tour?
Rob Loud, Getty Images
Even the most ardent Journey fan must have been a little surprised when the band insisted their 50th anniversary tour would go ahead amid a bitter legal fight between its two main stars.
Guitarist Neal Schon and keyboardist Jonathan Cain are still set to face off in a courtroom over a dispute stemming from millions of dollars being charged to a company credit card. Both have wound up making personal comments against the other. And while most musicians will fall back on a line like "the show must go on," there's got to be a breaking point sooner or later.
And yet, as Schon proudly posted on social media last week after the tour's last stop, "Journey very successfully just finished our 40 date tour. Onward and upward!" As if that wasn't enough, he added: "Great new dates coming and next year is going to be amazing! Starting with arenas again then stadiums." That followed his assertion earlier in April that "things are coming together friends," when he posted a picture that showed he and Cain nearly – but not quite – within handshaking distance of each other during a show.
That was after things had appeared to fall further apart before the show hit the road. Schon had wanted former member Gregg Rolie to come on tour with them, to place greater emphasis on the band's five-decade legacy. That resulted in even more badmouthing from the opposing camps, and led singer Arnel Pineda to let some of his exasperation out. "I'm with the band to sing the legacy," he tweeted. "if some of them are tired of me being with them, with all means they can fire me anytime."
Another former member – ex-vocalist Jeff Scott Soto – replied to Pineda, telling him: "You have nothing [and] no one to answer to, brother; you're a kind, gentle and huge heart with a huge talent to match… Stay the course, tour course. I'm proud to be your friend."
Drummer Dean Castronovo, who recently returned to the band after being dismissed in 2015, told UCR that as even though he wanted to broker a solution between Schon and Cain, it wasn't possible. "I love both those guys," he recently told UCR. "[I]t's hard for me to see the turmoil, 'cause they're like brothers to me. It breaks my heart to see this, but, you know, this is stuff they just have to work out, as much as I want to be a peacemaker. But I realize it's gonna take a miracle from God to fix this, so I'm just waiting for God to fix this. It's like, 'I just pray you work everything out, 'cause this thing is beautiful and I'd love to end my career with you guys.'"
In the meantime, he added, the show must indeed go on. "[W]e're professionals," he argued. "The bottom line is the music is bigger than this BS. That's the beauty of it. There can be all the squabbling and all the fighting and all the crud that goes along with it — and I know 90 percent of the bands out there have that. Probably all of them have that; they just don't make it public. But the music is bigger than all of that. People look up and go, 'I don't care if they hate each other.' The songs are iconic, and they love 'em."
Castronovo did hint that it wasn't so easy to coexist backstage. "We've got to go out there and play the best we can, and we do," he argued. "We leave it at the door and we go up and play and it's a beautiful two-hour show… then everybody just kind of goes their own way." He added: "And it's working. It really is."
In his own recent interview with UCR, Cain offered another reason to keep going. "Never in my wildest dreams did I think that I was going to be able to create this kind of lasting longevity when it comes to writing," he said, adding that he was most proud of the material he'd co-written with ex-vocalist Steve Perry. "[W]e were able to craft these songs with Neal that mean so much to so many people. That's pretty overwhelming to think about."
The band's catalog arguably makes a louder statement than some of the personnel issues over the years. "It's special when you become a soundtrack of people's lives, and they bring their kids and say, 'This is what I listen to when I was a kid,'" Cain said, before offering another insight into how he managed to hit the stage and deliver the goods amid undeniable tension. "I never looked over my shoulder, really," he explained. "I'd say my father was my mentor – and that was his advice: never look back. So I didn't, and it's served me well."
It seems obvious that the band will continue, but what form it may take remains uncertain. Rolie – whose perspective is interesting as a longtime former member who wound up playing a brief guest-star role on the tour – argued: "Journey has become this runaway freight train with no brakes. People come in and out; there have been all these changes, but Journey keeps going. It just keeps going and going. I'm proud to have been a part of building something like this that has reached millions of people and continues to do so."
Rock's 100 Most Underrated Albums
You know that LP that it seems like only you love? Let's talk about those.
You Think You Know Journey?