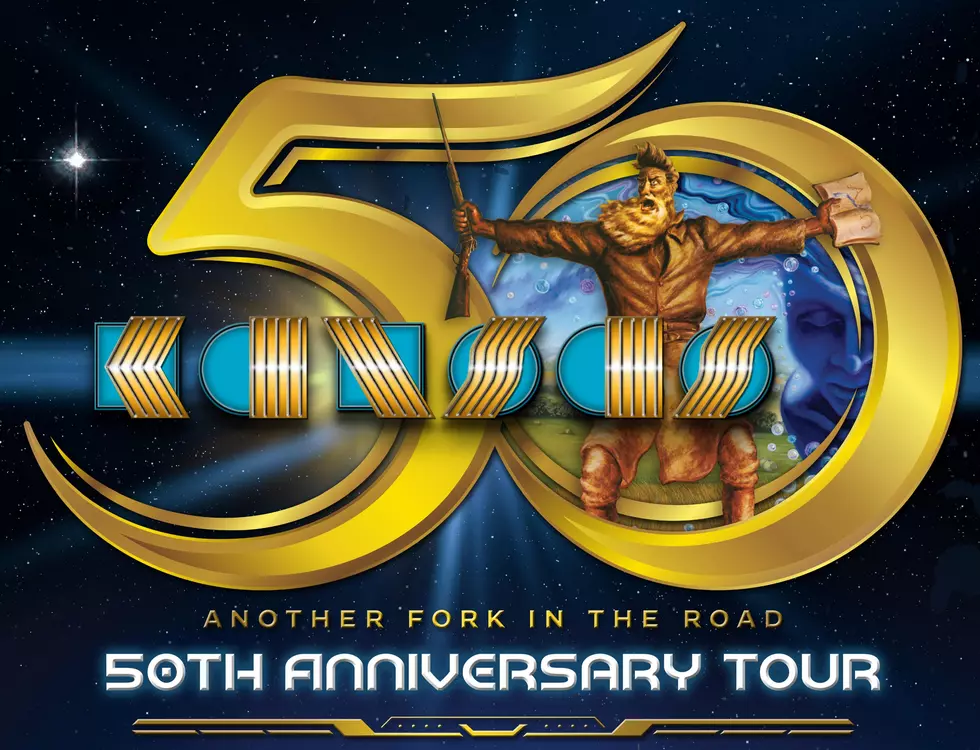 Kansas Extends 50th Anniversary Tour With New Tour Dates
Chipster PR
Kansas will continue their 50th anniversary tour with 20 additional dates beginning in early 2024.
They launched the Another Fork in the Road trek in June, noting that the shows would feature a cross-section of music from their entire five-decade career. The next leg will start Feb. 2 in Pensacola, Fla., and continue through May 18 in New Haven, Conn. You can see the complete list of dates below.
Over the years, they've notched several milestones, sharing the stage with many high-profile acts, including Queen and Rolling Stones.
Guitarist Rich Williams recalled an unexpected conversation with Mick Jagger and Keith Richards, who suddenly arrived in the Kansas dressing room. "'Hello, guys. Nice to have you on the show. Love your band. Let us know if there's anything you need,'" Williams told UCR earlier this year. "That's the only time I've ever been starstruck. I didn't say anything; I couldn't make words. They were such gentlemen. It was very cool."
When Will Kansas Tickets Go on Sale?
The band has been overwhelmed by the response to the initial shows they've played this year. "The way audiences have received the 50th Anniversary Tour has been spectacular," drummer Phil Ehart said in a news release. They'll also take care of a major omission with the next leg. "Heck, the first 50 dates didn't even include the state of Kansas. You know we must perform there!"
Tickets for many of the tour dates will go on sale Friday, Sept. 15. More information can be found on the group's official website.
READ MORE: Phil Ehart Looks Back at 8 Key Albums as Kansas Turns 50
Kansas, 'Another Fork in the Road' 50th Anniversary 2024 Tour Dates
Feb. 2 - Pensacola, Fla. @ Saenger Theatre
Feb. 3 - Birmingham, Ala. @ BUCC Concert Hall
March 1 - Richmond, Va. @ Dominion Energy Center
March 2 - Tysons, Va. @ Capital One Hall
March 8 - Springfield, Mo. @ Gillioz Theatre
March 9 - St. Joseph, Mo. @ Missouri Theater
March 22 - Salina, Kan. @ The Stiefel Theatre
March 23 - Salina, Kan. @ The Stiefel Theatre
April 5 - Toledo, Ohio @ Stranahan Theatre
April 6 - Elkhart, Ind. @ Lerner Theatre
April 12 - Champaign, Ill. @ Virginia Theatre
April 13 - Waukegan, Ill. @ Genesee Theatre
April 19 - Marietta, Ohio @ Peoples Bank Theatre
April 20 - Newark, Ohio @ Midland Theatre
April 26 - Morristown, N.J. @ Mayo Performing Arts Center
April 27 - Lancaster, Pa. @ American Music Theatre
May 2 - Rochester, N.Y. @ Kodak Center
May 4 - Toronto, Ontario @ Massey Hall
May 10 - Concord, N.H. @ Capitol Center for the Arts
May 11 - Albany, N.Y. @ Palace Theatre
May 17 - Providence, R.I. @ Providence Performing Arts Center
May 18 - New Haven, Ct. @ College Street Music Hall
Top 50 Progressive Rock Artists
From Kansas and Can to King Crimson and Curved Air.