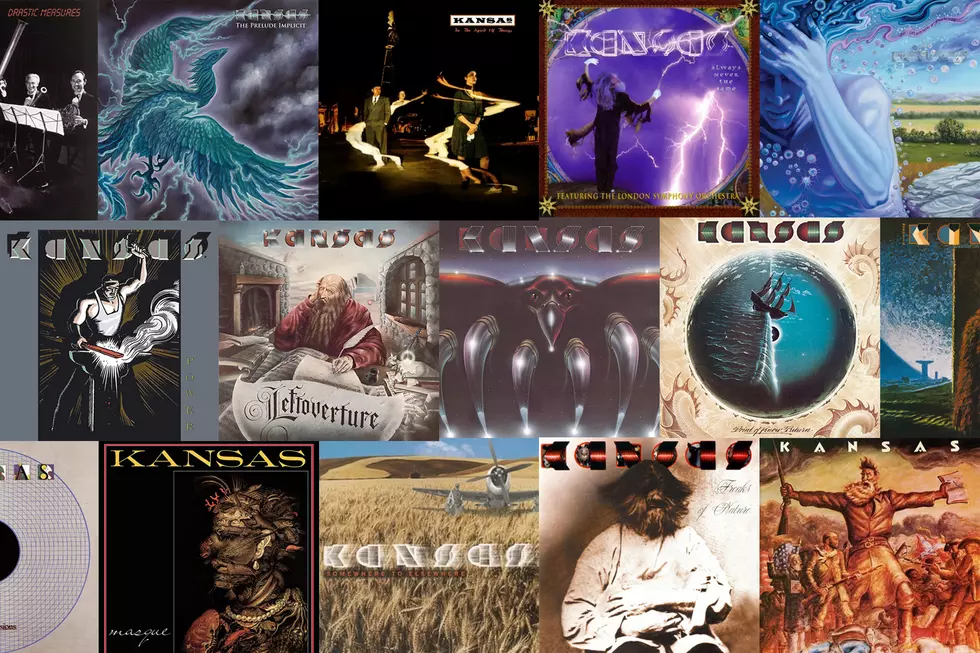 Kansas Albums Ranked Worst to Best
UCR
Call it geographical conceit, but Topeka, Kan., is perhaps the last place you'd expect to give birth to a progressive rock powerhouse, much less one that carries the name of its home state. The Midwest is supposed to provide us with bands like REO Speedwagon, right?
But Kansas made its mark, starting in 1973, by forging a blend of complex, symphonic arrangements (one of them even played the violin!) and muscular hard rock. "We all had different influences and music we liked, but we were all inspired by that British, what they called 'progressive' rock at the time," co-founding drummer Phil Ehart told UCR. "There was this idea of freedom - no rules, no requirements. That's very inspiring as a musician. It let us find something that was really unique and our own, special."
It's fair to say many listeners didn't know what to make of Kansas when their self-titled debut came out in 1974; the name conveyed an idea, but much of the music was more in the mold of Yes, Genesis, King Crimson, Gentle Giant and the rest of the prog tip. Kansas could certainly crank it out with the best of them ("Belexes," "Child of Innocence," "Carry on Wayward Son" to name a few) but even then it was always with an ambitious musicality that reached well beyond the riffs.
The motif was established early on by the original six members - Ehart, guitarist-keyboardist Kerry Livgren, keyboardist-singer Steve Walsh, violinist-singer Robby Steinhardt, guitarist Rich Williams and bassist Dave Hope - on a clutch of albums that gradually built an audience, until the fourth, 1976's Leftoverture, broke out to multiplatinum status thanks to the hit single "Carry on Wayward Son." Kansas kept the precious metal streak going for another few albums after that, but momentum stalled and changes - to personnel and the music - became constant from the '80s onward.
Some Kansas albums are fully realized, and many are mixed bags. The group has flirted with a variety of sounds and sonic approaches, occasionally to fit in with the times (never its strong suit) or sometimes chasing its legacy almost too desperately. What's stayed true is that there's usually something interesting to find on every title in the catalog, even if it's just a particular instrumental passage that demonstrates the creative facility Kansas demonstrated during the first few years of its recording career, as you'll see in the below list of Kansas Albums Ranked Worst to Best.
Kansas Albums Ranked
These American progressive rock heroes went on a dramatic career arc.