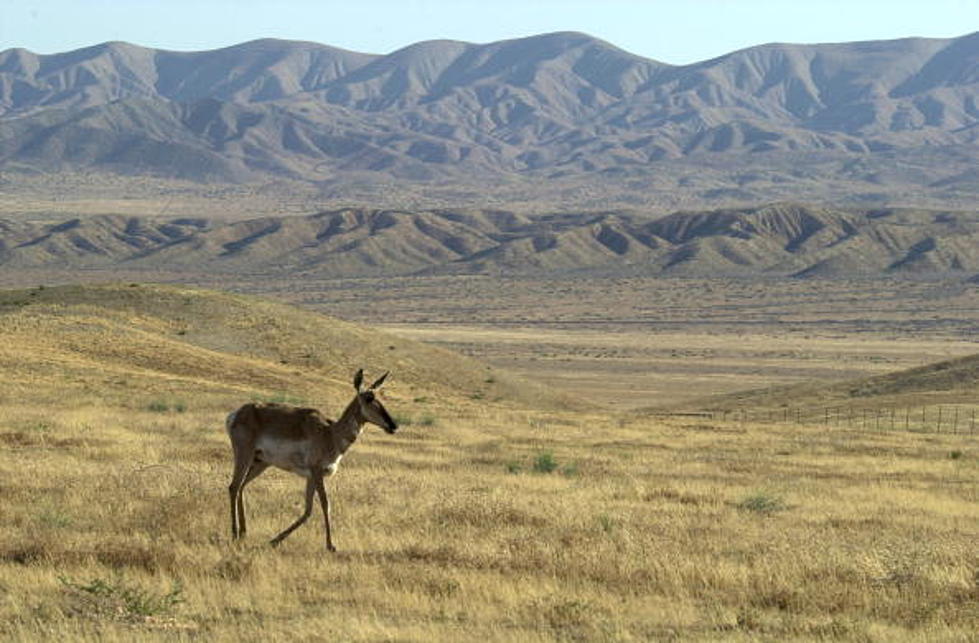 Harsh Disease & Weather Prompt Pronghorn Protection Legislation
David McNew/Getty Images
The typical weather cycles that bring us years of drought and moisture finally turned back to wet last winter- and we were all relieved!
But the drought that was killing wildlife out west turned into a hard winter that turned out to be just as grueling.
In parts of Wyoming, the elk population was hit hard.
A board meeting for the Pinedale Anticline Project Office brought a guest from the Wyoming Game and Fish Department's habitat mitigation. A biologist spoke about the Sublette Pronghorn herd.
"We're looking at greater than 75 percent mortality in that herd as a whole," she said.
That's a reduction of 40,000 animals this time last year.
It was more than just the snow.
A rare bacterial pneumonia disease entered the herd at the same time.
Previous estimates of the death toll were closer to 50 percent.
"It's kind of harsh news," Rhea said.
She went on to explain that the decline is not over.
"We will see a 15 percent decline this upcoming year, and likely a 15 percent decline in years to come," Rhea said.
The Sublette Pronghorn herd was considered one of the largest in the world.
That number one spot has to be reconsidered at this point.
To try to help the herd recover Wyoming Game and Fish is considering adding protections to the herd's historic migration route.
That means a political process and a signature from the governor, which could take years.
Wyoming Game and Fish would like to hear from the public on this issue.
There will be a meeting on Nov. 16 in Pinedale Nov. 29 in Green River and Nov. 30 in Jackson. Public comment on the proposal is open through Jan. 5.
A Gallery Of High Planes Wyoming Winter Bison
Special thanks to Grandpa Rich of Thermopolis Wyoming for these photos.
Each morning Grandpa drives up to check on the herd in Hot Springs County Wyoming.
As he drives around he takes photos and sends them to me.
An audience of 1 is not enough.
That's why I'm sharing them with you.
Gallery Credit: Glenn Woods
Baby Bison In Thermopolis Wyoming
Gallery Credit: Glenn Woods