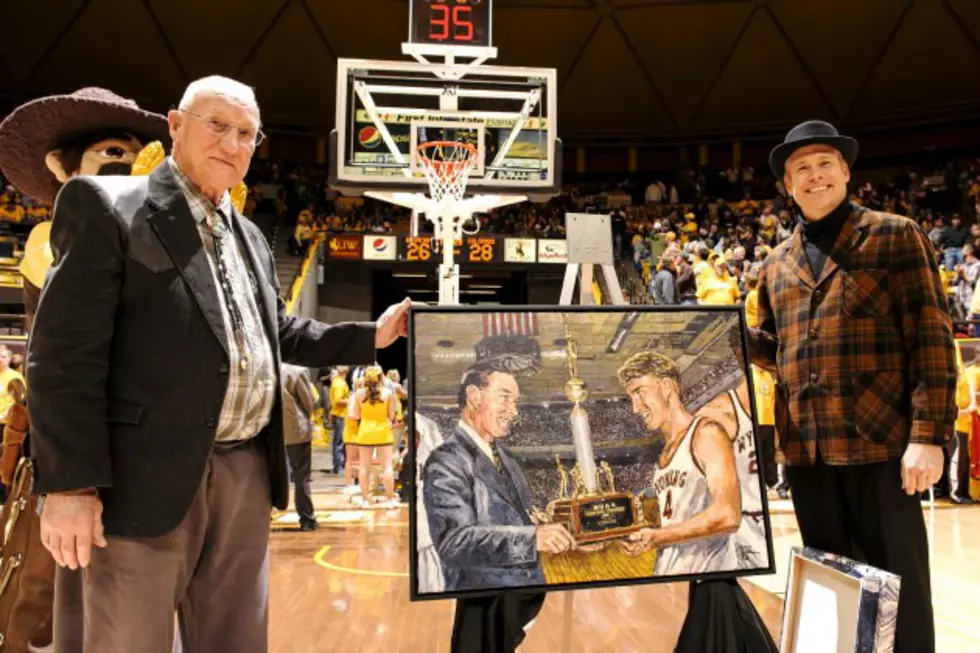 Laramie High School's Most Famous Graduates
Kenny Sailors poses with a painting from the University of Wyoming's 1943 NCAA Championship. Courtesy of UW Photo Service.
It's graduation weekend and, to salute the Class of 2017, here's a tribute to Laramie High School's legendary alumni.
Kenny Sailors, Class of 1939 - Credited as the inventor of basketball's "jump shot", Sailors moved to Laramie as a teenager and was a star athlete at Laramie High. He went on to be a two-time All-American at the University of Wyoming and led the Cowboys to the 1943 NCAA Championship.
After college, Sailors played for several professional teams, including the Boston Celtics, Denver Nuggets and Philadelphia Warriors. He is a member of the University of Wyoming Athletics Hall of Fame and the National Collegiate Basketball Hall of Fame.
Gerry Spence, Class of 1947 - One of the greatest trial lawyers in American history, Spence never lost a criminal case. After graduating from Laramie High, he earned a degree from the University of Wyoming Law School in 1952.
Spence's legal career began in Riverton, where he successfully represented several insurance companies. He later became an advocate for private individuals suing large corporations and won several high profile judgments for his clients.
Spence was also a defense attorney during many landmark trials, famously winning acquittals for Ruby Ridge gunman Randy Weaver and former Phillipino first lady Emelda Marcos.
John Bugas, Class of 1928 - Before breaking up two Nazi spy rings as an FBI Agent, Bugas was a high school dropout. At the age of 16, he was forced to quit school in his hometown of Wamsutter in order to help repay his family's debts.
He moved to Laramie two years later, graduated from Laramie High, then enrolled at the University of Wyoming. After helping lead the Cowboys basketball team to the 1934 National Championship and earning a law degree, Bugas went to work for the Federal Bureau of Investigation.
He quickly rose through the ranks in the FBI and was named the chief of the Detroit office. In 1944, he joined the Ford Motor Company and eventually became one of the most powerful executives in the automobile industry.
Wayde Preston, Class of 1947 -  Born by the name of William Strange, his father was a teacher at Laramie High School. Before becoming a leading man, he studied to be a pharmacist at the University of Wyoming.
In 1950, he was drafted into the U.S. Army and fought in the Korean War. After returning home, he worked briefly as a ranger at Grand Teton National Park before becoming a traveling musician and rodeo performer.
While riding on the rodeo circuit in 1956, Strange was discovered by talent scouts and recruited to star in the television series Colt .45. Under the stage name of Wayde Preston, he played the lead role in 67 episodes of the popular ABC western. His acting career, which also includes credits in NBC's Bonanza and ABC's Starsky and Hutch, continued into the early 1990s.
Groathouse began riding his skateboard on the University of Wyoming campus in the 7th grade and never stopped. Following high school, he spent seven years at UW, earning two degrees.
Now 32, the Sales and Marketing Executive still rides his skateboard to work and was recently the subject of the documentary film Skater Guy.