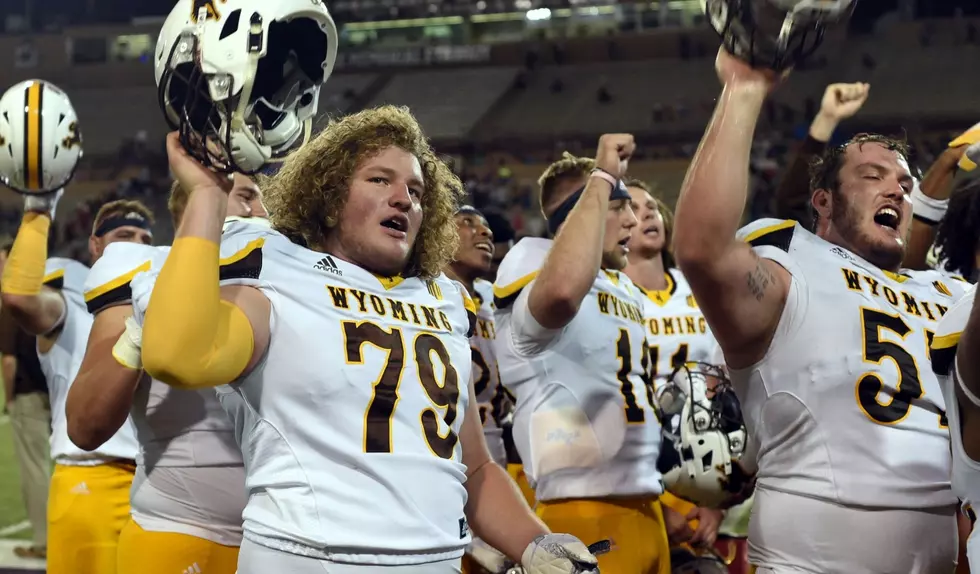 Logan Harris receives invite to Detroit Lions rookie minicamp
Former Wyoming offensive lineman Logan Harris Thursday received an invite to Detroit Lions rookie minicamp./ DJ Johnson photo
* University of Wyoming Athletics media relations release
LARAMIE -- The Detroit Lions are bringing in former Wyoming Cowboy offensive lineman Logan Harris as an undrafted free agent. Harris was a starter on three Wyoming bowl championship team in 2017, '19 and '21 and earned All-Mountain West Conference honors three consecutive years.
For his career, Harris started 43 of 54 games for the Cowboys. He began his Cowboy career starting all 13 games of his true freshman season of 2017 at center. He was part of the a Wyoming offense that was led by quarterback Josh Allen.
The 2017 Cowboys won the Famous Idaho Potato Bowl and posted an 8-5 record.  Harris started all 11 games he played in during the 2019 season at right guard, including Wyoming's victory in the 2019 Arizona Bowl.
MORE UW FOOTBALL COVERAGE:
* Bohl: 'To lead them, you have to know them'
* Wyoming's Keegan Cryder signs UDFA deal with Tampa Bay
* Former walk-on Garrett Crall inks with Miami Dolphins
* Three takeaways from Wyoming's spring game
The Torrington, Wyo., native concluded his college career in 2021 starting all 13 games at right guard on UW's 2021 Famous Idaho Potato Bowl Championship team.
Harris was selected Honorable Mention All-Mountain West Conference by conference head coaches and media in three consecutive seasons -- 2019, 2020 and 2021.
He was the leader of an offensive line that helped Wyoming rank No. 20 among FBS teams in rushing offense in 2021, No. 14 in the nation in 2020 and No. 23 in the country in 2019.
Harris joins his former teammates, Chad Muma, Garrett Crall and Keegan Cryder as Cowboys who earned NFL opportunities this spring.  Muma was selected by the Jacksonville Jaguars as the sixth pick in the third round of the 2022 NFL Draft.
Crall is joining the Miami Dolphins as an undrafted free agent, and Cryder is joining the Tampa Bay Buccaneers as an undrafted free agent.
Wyoming players drafted by the Detroit Lions organization:
1956 - George Galuska - 23rd round
1968 - Jerry DePoyster - 2nd round
1973 - Scott Freeman - 11th round
1976 - Lawrence Gaines - 1st round
1979 - Ken Fantetti - 2nd round
1986 - Allyn Griffin - 8th round
1997 - Marcus Harris - 7th round
Chad Muma's Wyoming career highlights
Highlights from Chad Muma's Wyoming football career, Chad Muma Wyoming football