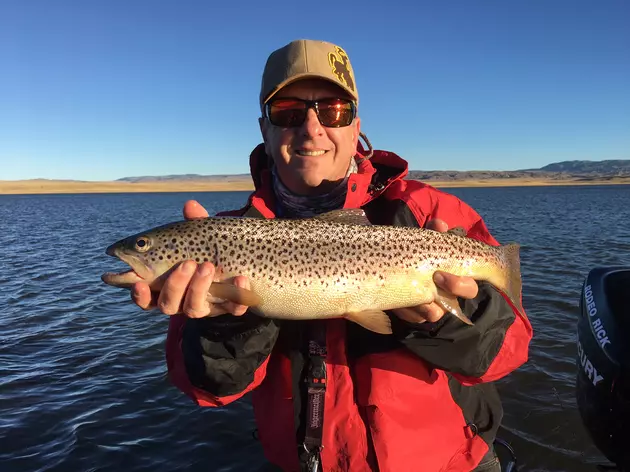 One of the World's Best Places to Fish for Brown Trout is in Wyoming
Rick Darcy, Townsquare Media
Fishing has long been a passion of mine and one of my favorite fish to chase after is the Brown Trout.
A lot of people have asked me, 'Why do you live in Wyoming'?  My response varies slightly depending on the audience.  The 'beauty and tranquility' is the most common response, but a close second is 'for the hunting and fishing opportunities'.
I've chased big bass in the south, caught steelhead and salmon in the pacific northwest, but in all of my travels I've never found better fishing than right here in Wyoming!
Brown trout can be an eleusive prey when fishing the waters where they are found in Wyoming.  But it doesn't matter if you're river fishing or if your lake fishing, brown trout put up an amazing fight and are a lot of fun to catch.
We are fortunate to have an abundance of trout in the Cowboy state and more and more visitors come to Wyoming for not only the scenic beauty, but to catch big fish.
Field and stream magazine just listed the North Platte River, which runs through the heart of Wyoming, as one of the top 10 places in the world to fish for brown trout and I have to fully agree!  I've caught some huge brown's out of the North Platte River.  And each part of the river offers new opportunities to catch yet another monster.  From the Colorado boarder where the North Platte enters into Wyoming, all the way downstream to the City of Casper, even the reservoirs along the North Platte have produced big brown trout for me over the years.
For anyone hoping to catch a brown trout but having trouble, look for steep drop offs and ambush points.  Browns will hold in deeper water and ambush prey during the day and come out of those holes to feed at night. Browns are predator fish and are ferocious fighters.
Some of the other near by waters to Wyoming that also hold good numbers of brown trout are the Gunnison River, the Colorado River and the Yampa River all in Colorado, the Missouri River in Montana and the Green River as is flows from Wyoming into Utah.
No matter where you choose to fish, we wish you the best of luck in your trophy pursuit of big fish!!  Good Luck!