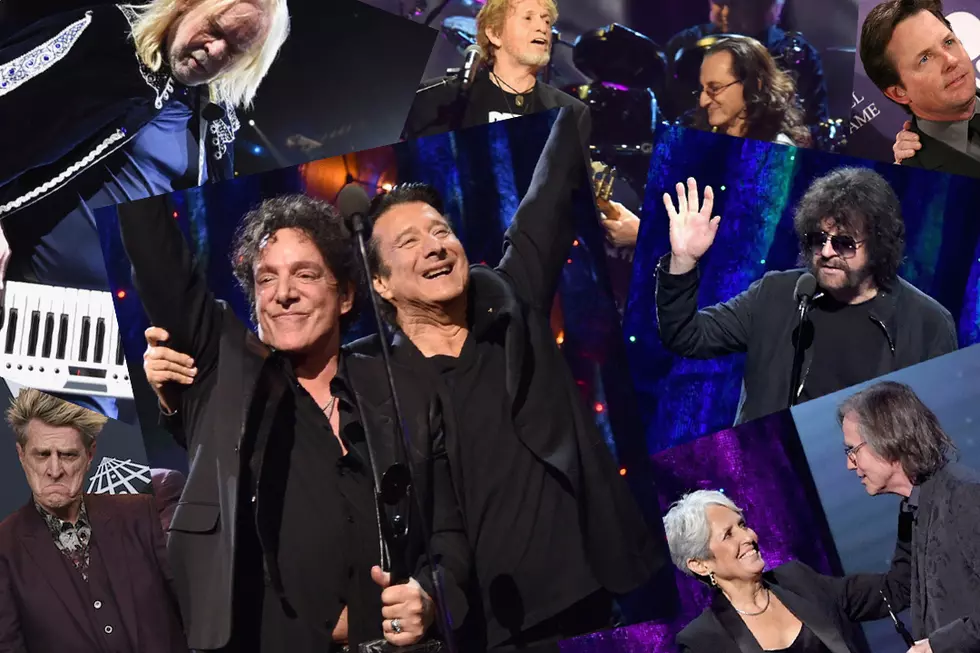 Rock and Roll Hall of Fame Induction Ceremony 2017: Our 11 Favorite Moments
Ultimate Classic Rock
This year's Rock and Roll Hall of Fame induction ceremony was marked by signature reunions, a series of funny one-liners, a few notable absences and a raucous jam. Click through the above gallery for key images from Friday's event, held at the Barclays Center in Brooklyn, then check out 11 of our favorite moments below. Tune in later this month when the 2017 Rock and Roll Hall of Fame induction ceremony airs on HBO. The show premieres on April 29.
Chuck Berry Was Fondly Remembered

One of the architects of rock, Chuck Berry was given his due as the Rock and Roll Hall of Fame induction ceremony began. The very first inductees, back in 1986, Berry was remembered in opening remarks by Rolling Stone founder Jann Wenner – his best line: "no one in this room would be here tonight if not for this man" – then during a video montage and, finally, with Jeff Lynne fronting a rousing performance of "Roll Over Beethoven" by 2017 inductees Electric Light Orchestra. Berry died less than a month earlier at age 90.

No one was surprised when Joan Baez, one of folk's most committed activists, discussed social-justice issues – and even specifically referenced President Donald Trump in her rendition of "Swing Low, Sweet Chariot." But she was just as effective with one liners. She admitted that this recognition will give her new cache with younger people "would have no clue who I am," and that this group actually included her own granddaughter. That is, "until I took her backstage at a Taylor Swift concert, where she got a selfie, an autograph, a T-shirt and newfound respect for her grandmother."

It's perhaps no surprise, considering how long it had taken Journey (eligible since 2000), ELO (1996), Yes (1994) and Baez (1985) to achieve this honor, but the passage of time seemed like a running theme at the Barclays Center. Lynne quipped, "Everything comes to him what waits." Baez noted how music had evolved "from vinyl to digital and everything in between — and back to vinyl." Journey guitarist Neal Schon confessed, "I thought [the band's induction] would never happen." And then there was Rick Wakeman, who specifically thanked the committee for putting Yes on early in the bill since older men sometimes experience prostate issues.

Mike Coppola, Getty Images

Mike Coppola, Getty Images

Marty McFly Was Among the Attendees

While inducting Electric Light Orchestra, George Harrison's son Dhani shared a treasured memory of his father joining friend and bandmate Jeff Lynne onstage, when the youngster was just 7. "Out of nowhere," he said, "they all kicked into 'Johnny B. Goode,' like Back to the Future." Just then, Michael J. Fox was found in the audience, and his image flashed on the huge video screen behind Harrison – to huge applause. Later, Pearl Jam dedicated a performance of 1997's "Given to Fly" to Fox, who turned to the song for inspiration during his fight with Parkinson's disease.

Bryan Bedder, Getty Images

Bryan Bedder, Getty Images

T.M.I., Mr. Wakeman. T.M.I.

Yes' keyboardist began by placing the location in context, saying "less than half a mile away from this very building is where I had my very first meaningful sexual experience. ... It wasn't very good; it never is when you're on your own." Wakeman later remembered his father saying, "'Son, don't go to any of those really cheap, dirty, nasty, sleazy strip clubs, because if you do, you'll see something you shouldn't.' So, of course I went. And I saw my dad." Then, there was discussion of a recent prostate exam. "Whilst I was having my examination, the doctor said to me, 'Mr. Wakeman, there's no need to be embarrassed. It's not unusual to get an erection with this kind of procedure.' I said, 'I haven't got an erection.' He said, 'I know, but I have.'"

Co-founding Electric Light Orchestra drummer Bev Bevan had previously announced he would not be on hand for the 2017 Rock and Roll Hall of Fame induction ceremony, but he wasn't the only missing honoree. ELO's Richard Tandy, the only legacy member of the band whom Jeff Lynne still regularly works with, did not appear either. Yes also accepted their awards without an appearance by – or even a mention of – Tony Kaye. The keyboardist was part of their first three albums, a period that produced the enduring Yes standard "Starship Trooper," and then returned for the platinum-selling era that began with the arrival of Rabin and 1983's 90125.

Mike Coppola, Getty Images

Mike Coppola, Getty Images

Yes' Outsized Performance

Yes began with an update of "Roundabout" that featured returning original singer Jon Anderson. That was just the beginning. Also featured was guest bassist Geddy Lee, who noted during his induction speech that he was thrilled to "right a wrong." Later, Lee called filling in for the late band co-founder Chris Squire a "bittersweet" experience. Then Wakeman switched from his familiar bank of keyboards to a kitschy keytar in order to wade out into the crowd during "Owner of a Lonely Heart." A flowing cape – and fellow Yes inductee Trevor Rabin – trailed behind him.

Steve Perry Does His Best Diamond Dave

Steve Perry began by shouting, "Hello, Rock and Roll Hall of Fame!" followed by "You sure look good to me tonight." All that was missing for this David Lee Roth impersonation to be complete was a pair of Spandex pants. Perry later offered a moment of profanity-laced wonder at the talent he'd once worked with: "Are you f---ing s---ting me? Any singer would give his ass for that s---."

Ross Valory's Offbeat Sense of Humor

An imposing figure, Journey's co-founding bassist tried to match Wakeman for yuks. He began his acceptance speech with a lengthy bit on adjusting the microphone, and then made a joke about the clock that limits the time inductees can talk. He memorably shared that he had been a music fan since "they swabbed my ears out in the maternity ward." Finally, when no one volunteered any questions in the post-induction news conference, he had a goofball reaction – seen in the below photo – while asking why no one wanted to talk to the bass player.

Nicholas Hunt, Getty Images

Nicholas Hunt, Getty Images

An Emotional Journey Reunion

Fans didn't get to see Perry perform with Journey; their decade-long singer Arnel Pineda handled vocal duties during the band's Hall of Fame set. By then, however, Journey had already had an emotional reunion with their former vocalist onstage during their official induction. One of the lasting images of the night was an embrace between Schon and Perry, who effusively praised the guitarist' "magic fingers." Ross Valory, Jonathan Cain and Gregg Rolie – the latter of whom co-founded Journey with Schon – also interacted warmly to Perry at different points during the induction speeches.

Mike Coppola, Getty Images

Mike Coppola, Getty Images

Neil Young Was Still a Presence

A sudden illness kept Neil Young from inducting his old friends and collaborators Pearl Jam, but his presence was still felt. The traditional after-ceremony jam was originally scheduled to be Berry's "Rock and Roll Music," but when Pearl Jam shifted into jam-mode, they instead roared into "Rockin' in the Free World," from Young's 1989 album Freedom. They were joined by a contingency that included Lee and Alex Lifeson from Rush, Neal Schon from Journey and Trevor Rabin of Yes, among others.