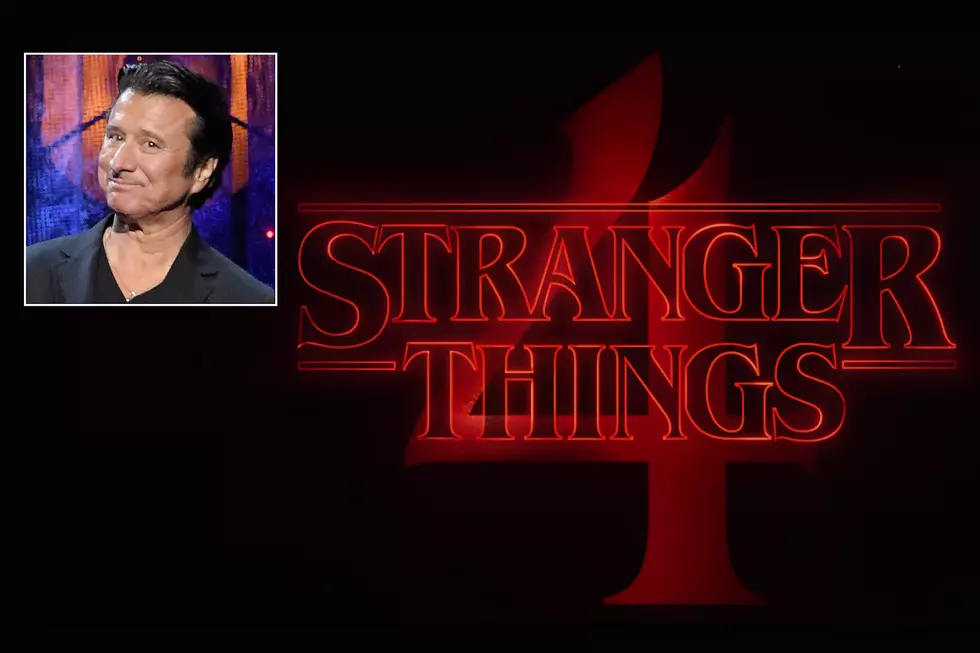 How Steve Perry Got Involved in the New 'Stranger Things' Trailer
Mike Coppola, Getty Images / YouTube
Before the trailer for season four of Stranger Things excited fans all over the globe, it caught the attention of someone else: Steve Perry.
The clip is soundtracked by a reworked version of "Separate Ways (Worlds Apart)," Journey's hit song from 1983. Boutique music house Alloy Tracks was charged with reimagining the song for the trailer. While in the early stages of the project, the company's founder and owner Troy MacCubbin was surprised when he received a phone call to discuss the tune.
"I'm thinking I'm talking to this guy from Netflix because he caught me off guard and he wanted to talk about the song," MacCubbin recalled to Forbes. "He kept saying to me, 'I don't usually allow these songs to go through' and I'm thinking, 'Oh, it's the guy from Netflix.' We probably talked for about 15 minutes, he wanted to know all about what we did with the song and how'd we do this and how'd we do that? At the end of the conversation, before he hung up, I was like, 'Sorry, who am I talking with? What's your role in this?' And he's like, 'It's Steve Perry from Journey!'"
Watch the Trailer for Season Four of 'Stranger Things'
Perry had heard a demo version and was so enthusiastic about the new reinterpretation of the song that he became actively involved in the creative process.
"He had some specific mixing notes," composer Bryce Miller noted, explaining how Perry influenced the final version heard in the trailer. "He wanted the vocals to be brought out a little bit more in some places and just a refinement of some [other] details. It was really cool to work with him and he had some really nice things to say. One of his favorite things now in his career is hearing these songs that he wrote decades ago get new life and be brought to new generations and new demographics through things like Stranger Things."
According to MacCubbin, Perry was especially impressed by how they were able to isolate his vocals parts.
"He was like, 'How did you guys do this?'" the Alloy Tracks founder recalled. "He was like, 'Man, I wish I had you guys back in the day when we released this song because this is what I wanted the song to sound like. … I mean, what a compliment coming from Steve Perry. He couldn't have been cooler, man."
69 Times Rock Music Made 'Stranger Things' Even Stranger