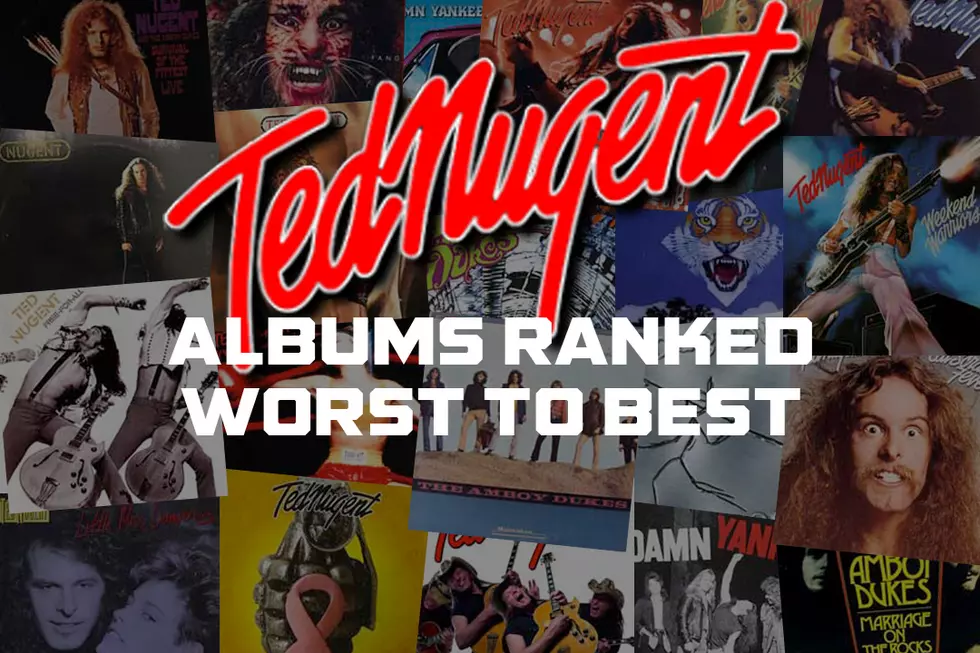 Ted Nugent Albums Ranked Worst to Best
Ultimate Classic Rock
Love him or loathe him, Ted Nugent is a classic rock institution, as you'll see in the following list of his albums ranked worst to best.
After all, he first started making a name for himself in the '60s as the guitar player for the Detroit-based Amboy Dukes. Like many bands of the era, the Dukes' albums reflected revolutionary times with a head-spinning amalgam of blues rock, garage rock, psychedelia and even art rock, but enjoyed little mainstream success.
Their demise over the first half of the '70s was a painfully protracted process, driven as much by dwindling album sales as Nugent's increasingly domineering ways and aversion to drugs and alcohol at a time when they went hand-in-hand with rock 'n' roll.
It was only a matter of time until he outgrew the Amboy Dukes and repositioned himself as a solo artist in 1975, a full decade into his career. What followed was a string of guitar-driven hard rock albums, backed by a relentless tour schedule that simultaneously transformed Nugent and his backing band into one of the top-grossing touring acts in the States for several years running.
But as the '80s got underway, Nugent faced a reversal of fortune that itself was turned around at the dawn of the '90s when he joined up with Damn Yankees at the dawn of the '90s.
Anyone familiar with Nugent probably knows that "surrender" has never been a part of his vocabulary, so it was only a matter of time before the Motor City Madman found his voice again as a solo act, producing records on par with his late-'70s glory and shifting his focus as a concert warrior once again. Still, his long line of recordings over the years are a huge chunk of that legacy. From the Amboy Dukes to the present day, these are Ted Nugent Albums Ranked Worst to Best.