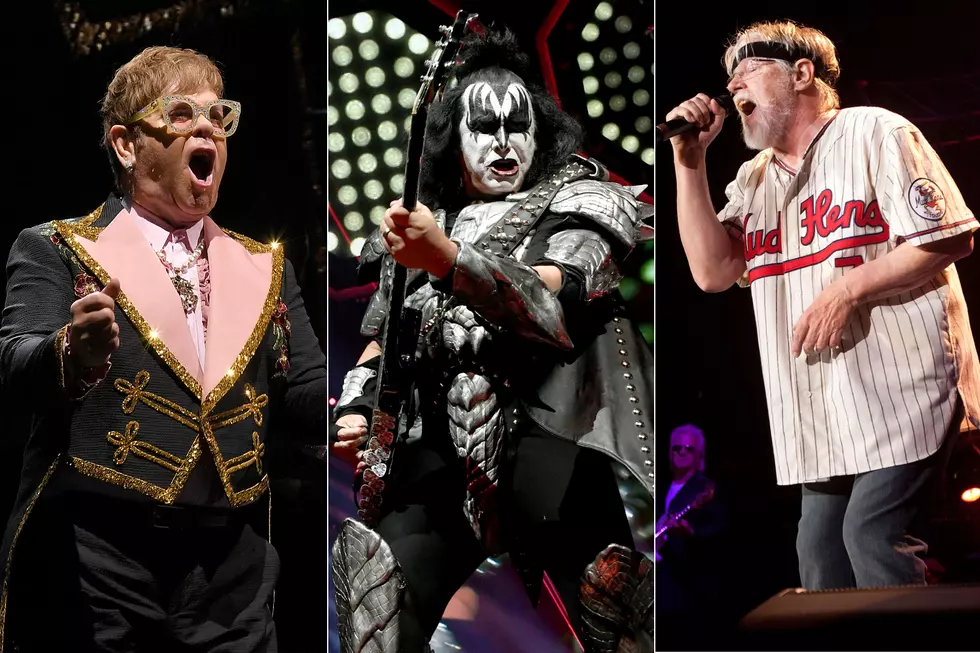 Elton John, Kiss, Bob Seger Among 2019's Most Lucrative Tours
Michael Loccisano / Kevin Winter / Scott Legato, Getty Images
Billboard has released its concert ticket sales analysis for the first half of 2019, and some big-name farewell tours are among the highest-grossing.
At the top of the list is Elton John, whose Farewell Yellow Brick Road trek has brought in more than $100 million, significantly more money than any other tour. It's been a banner year for the singer, as sold-out stadiums and the success of his Rocketman movie have helped make John's swan song one of the greatest of all time.
Two other farewell tours featured prominently on the list. Kiss placed fifth with their End of the Road world tour; the makeup-wearing rockers have reportedly pulled in nearly $59 million this year. Bob Seger and the Silver Bullet Band came in eighth, earning just north of $45 million.
The only rock artist to make the Top 10 who's not on a farewell tour is Metallica. The heavy metal legends have pulled in nearly $42 million so far in 2019, good for a 10th-place showing
Overall, the live music industry seems to be quite healthy. Billboard reports that the Top 100 tours of 2019 grossed 18.8 percent more than in 2018, with much of the credit being given to successful farewell runs. In addition to the aforementioned artists, Paul Simon, Slayer and Lynyrd Synyrd are among the notable performers saying goodbye this year.
You can see Billboard's full list below.
1. Elton John - $100,864,382 across 51 shows
2. Justin Timberlake - $75,644,352 across 38 shows
3. Ed Sheeran - $70,848,732 across 20 shows
4. Pink - $58,948,647 across 29 shows
5. Kiss - $58,667,155 across 43 shows
6. Travis Scott - $58,666,153 across 54 shows
7. Trans-Siberian Orchestra - $55,151,261 across 89 shows
8. Bob Seger and the Silver Bullet Band - $45,485,108 across 32 shows
9. Drake - $42,843,671 across 23 shows
10. Metallica - $41,732,761 across 21 shows
Elton John Albums Ranked