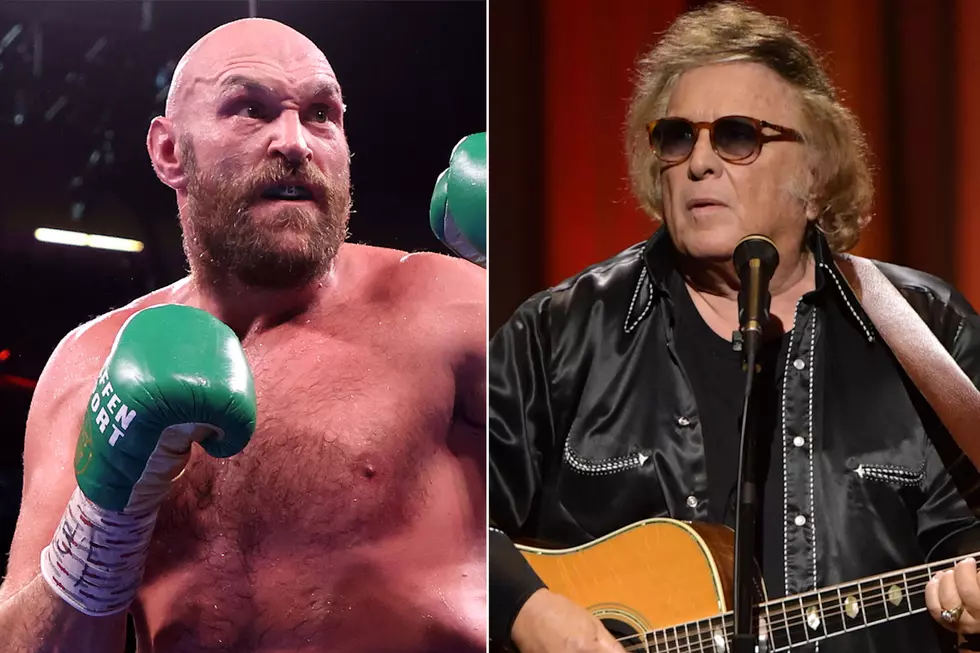 Boxer Tyson Fury Joins Don McLean on Remake of 'American Pie'
Al Bello / Jason Kempin, Getty Images
Boxer Tyson Fury, currently the heavyweight champion of the world, joins singer-songwriter Don MacLean on a remake of the rocker's classic song "American Pie."
Fury, known to fans as the Gypsy King, has displayed admiration for the tune in the past. In 2019 he sang the song during a post-match press conference following his draw with then-champ Deontay Wilder. A year later, when he defeated Wilder in a rematch at the MGM Grand in Las Vegas, Fury serenaded the crowd with a rendition of "American Pie."
"He did very well," McLean said to TMZ at the time after seeing footage of the performance. "I would say he's the number one bar room singer. Excellent job!"
McLean also noted how excited it made him to see the crowd singing along to the classic song. "The thing that knocked me out was that everybody, all the old folks, young folks, everybody knew all the words," the rocker admitted. "Kind of a thrill for me to see that!"
Now, more than two years later, the boxer and musician have teamed up for a duet of the track. The rendition features McLean handling the majority of the vocal duties, but towards the end Fury joins in on the iconic "American Pie" chorus. The accompanying video (see below) chronicles Fury's rise in fame, fall from grace and subsequent boxing comeback.
Fury is set to defend his title against Dillian Whyte at Wembley Stadium on April 23. Meanwhile, McLean is in the midst of a nationwide tour celebrating the 50th anniversary of "American Pie."
30 Rock Stars and the Sports They Love
A look at rock stars who have a passion for sports.