New Report Shows State Job Growth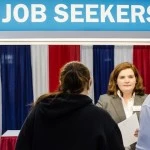 A Senior Economist with the Wyoming Department of Workforce Services Research and Planning Division says Wyoming's job growth during the first two quarters of 2012 was far ahead of the quarterly average over the last five years.David Bullard says the state showed job growth of 2.5% during the first quarter and 2.1% during the second quarter of the year, according to a new report. That compares with an average quarterly job growth of only 0.3 percent for the state over the last five years. Bullard says the construction sector added 1,300 jobs in the second quarter, followed by mining, which added 1000 jobs and accommodation and food services, which added 800 jobs.
Sublette County had the biggest percentage job growth, at 8.7%, or 456 jobs. Natrona County had the biggest increase in terms of raw numbers, adding 2,049 jobs for a growth rate of 5.4%.