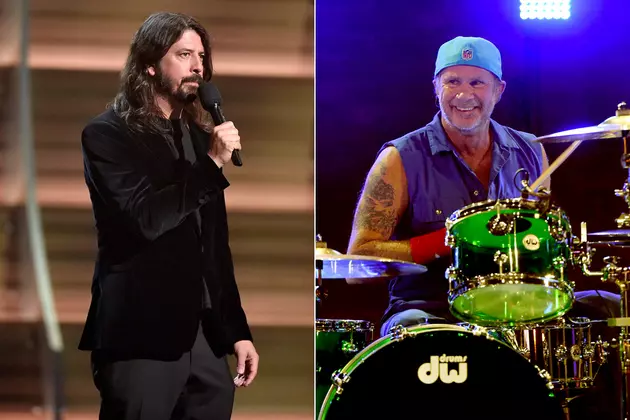 Are Dave Grohl + Chad Smith Working With Spinal Tap's Derek Smalls?
Kevork Djansezian / Kevin Winter, Getty Images
A recent meeting of some of rock's drumming greats recently took place in Hollywood. Red Hot Chili Peppers drummer Chad Smith revealed the meeting, posing for a photo with Foo Fighters' frontman and former Nirvana drummer Dave Grohl, as well as drumming legend Jim Keltner, who has worked with everyone from Bob Dylan to John Lennon, Joe Cocker, George Harrison and more.
In the tweet, seen below, Smith claims that the meeting took place at EastWest Studios in Hollywood, Calif. and that it was related to a Derek Smalls studio album. Smalls, of course, is the fictional character portrayed by actor/comedian Harry Shearer in the This Is Spinal Tap mockumentary. It's also notable that Smith tagged CJ Vanston, who has been Spinal Tap's producer and musical director on their past albums.
If you're up to date on your Spinal Tap knowledge, seeing three such legendary drummers together could be troubling. The band has a history of their drummers dying off under a strange variety of circumstances, including two who died of "spontaneous human combustion" while performing onstage. So hopefully Grohl, Smith and Keltner are looking after their health. We'll keep you up to date as more details about the project are revealed.
Grohl is playing some dates with Foo Fighters this year, with mostly European festival appearances scheduled so far. Meanwhile, Smith is keeping up a busy tour schedule with Red Hot Chili Peppers while the band supports their latest album The Getaway.
Top 66 Hard Rock + Metal Drummers of All-Time
10 Awesome "Good Guy Grohl" Moments