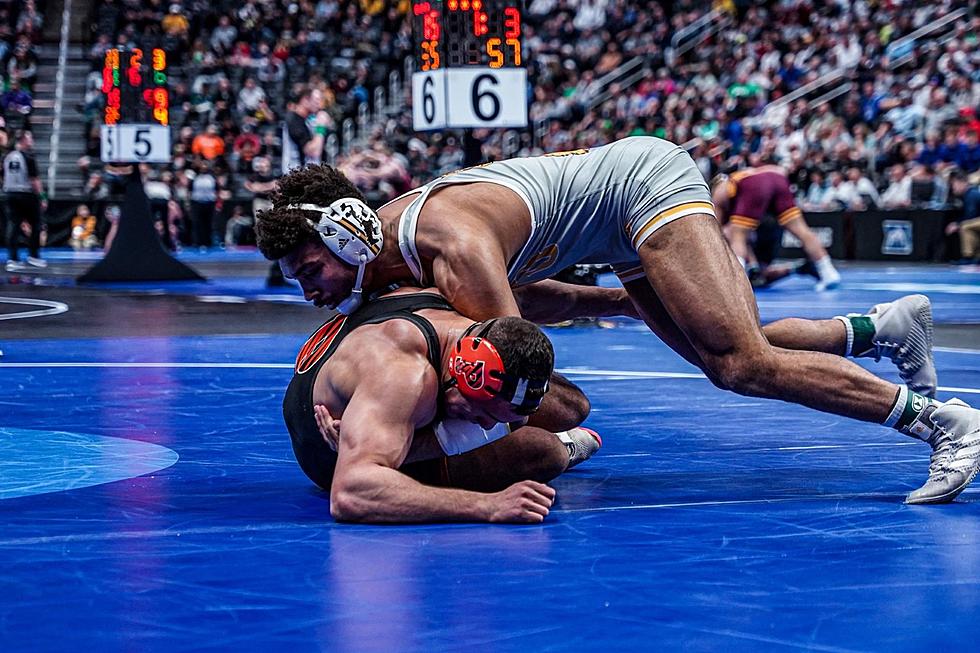 Cowboy Wrestling Announces 2022-23 Schedule
The Wyoming Cowboy Wrestling squad kicked off the NCAA championships on Thursday with the first two sessions of wrestling inside the Little Caesars Arena in Detroit, Michigan. For the second season in a row Stephen Buchanan booked a spot in the 197 pound quarterfinals after going 2-0 on the day./ UW courtesy photo
* University of Wyoming press release
LARAMIE -- Head Wrestling Coach Mark Branch announced the 2022-23 schedule Friday afternoon. The Wyoming Cowboy wrestling squad will host five events at home including opening their season with the Cowboy Open. The schedule also features multiple duals against ranked opponents and ten duals against Big 12 conference opponents.
"We are very thrilled to add Soldier Salute tournament after Christmas this year. It will be a new event for us, and it will give us a chance to see some different teams from different parts of the country," Mark Branch said. "This schedule should set us up well and prepare us for Big 12's and the NCAA tournament."
The Cowboys will get their season started by hosting the Cowboy Open on Nov. 12 and will follow that up with a trip to Stillwater, Oklahoma on Nov. 18 for a dual against Big 12 foe Oklahoma State.
The Pokes will stay busy in the December with four events on the schedule highlighted by a conference dual against Air Force and a trip to Las Vegas, Nevada for the Las Vegas Cliff Keen Invitational featuring a loaded field of ranked wrestlers and NCAA qualifiers. They will also compete in the inaugural Soldier Salute tournament hosted in Coralville, Iowa and will go up against a field that features Iowa, Army, The Citadel and Columbia.
After back-to-back road duals to open the new year, the Cowboys return to Laramie for their first home dual of the season against Missouri on Jan. 14th. They follow that up with a road trip up north to take on North Dakota State and South Dakota State on Jan. 21st and 22nd.
The Cowboys wrap up their regular season with three straight home duals against conference opponents including hosting Front Range Foe Northern Colorado on Feb. 5 for senior day. They then close out their regular season on the road against Oregon State on Feb. 11.
Wyoming will open their postseason with the Big 12 Championships in Tulsa, Oklahoma on March 4-5. They will then make a return trip to Tulsa for the NCAA Championships on March 16-18.
Complete 2022-23 Schedule  
Nov. 12                   Cowboy Open                                    Laramie, WY
Nov. 18                   at Oklahoma State                             Stillwater, OK
Dec. 2-3                  Cliff Keen                                           Las Vegas, NV
Dec. 10                   at Air Force                                       Colorado Springs, CO
Dec. 18                   RTOC                                                Reno, NV
Dec. 29/30              Soldier Salute Tournament               Coralville, IA
Jan.  5                      at UNI                                              Cedar Falls, IA
Jan. 7                       at Iowa St.                                       Ames, IA
Jan. 14                    Missouri                                           Laramie, WY
Jan 21                     at NDSU                                           Fargo, ND
Jan. 22                    at SDSU                                          Brookings, SD
Jan. 28                    Cal Baptist                                       Laramie, WY
Feb. 4                       Utah Valley                                     Laramie, WY
Feb. 5                       Northern Colorado                         Laramie, WY
Feb. 11                    at Oregon St.                                  Corvallis, OR.
March 4-5             Big 12 Championships                      Tulsa, Okla.
March 16-18       NCAA Championships                        Tulsa, Okla.
12 Cringeworthy Things Guaranteed to Piss Off Wyomingites
There are just certain things Wyomingites don't want to see or hear. Check out these 12 things that are guaranteed to anger someone from Wyoming.
- 12 Cringeworthy Things Guaranteed to Piss Off Wyomingites