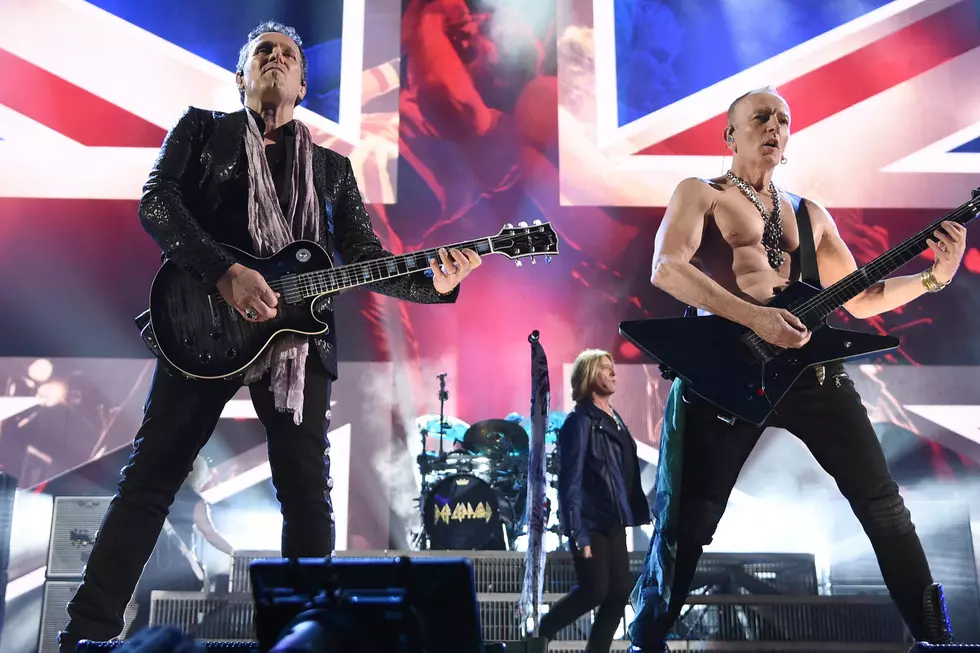 Def Leppard Launch 'Sin City' Vegas Residency: Set List, Video
Dimitrios Kambouris, Getty Images
Def Leppard kicked off their latest Las Vegas residency with a resounding performance last night at the Zappos Theater inside the Planet Hollywood Resort and Casino.
Delivered on a stage that contained classic amp stacks and staircases along with screens and lasers, the 23-song set included material from throughout their career, with eight songs from Hysteria, four from Pyromania and two each from High 'n' Dry, Adrenalize and Def Leppard.
The band debuted two previously unperformed numbers – "Let Me Be" from X and "We Belong" from Def Leppard – and also included "Slang" for the first time since 2013; "Billy's Got a Gun," "Have You Ever Needed Someone So Bad" and "Now" for the first time since the early '00s; and set opener "Die Hard the Hunter" for the first time since 1992.
An acoustic session in the middle included four tracks. You can see videos and the set list from the show below.
Watch Def Leppard Perform 'Die Hard the Hunter'
Prior to the show, Joe Elliott promised "a really big production" while discussing Def Leppard's performance with the Las Vegas Weekly. "That's the whole point of doing these shows these days," the singer declared. "It has to be a visual feast."
This isn't the band's first extended Las Vegas run. Def Leppard previously enjoyed a successful Sin City residency in 2013, in which they performed their vaunted 1987 album Hysteria in its entirety. The band decided to go a different route for their latest Vegas stint, opting instead to mix up the material in their set list. In an interview with the Las Vegas Review Journal, drummer Rick Allen revealed that Def Leppard were inspired by another classic rock group's recent Vegas stay.
"We've known the Aerosmith guys for a long time, and I feel the way they're approaching their Vegas residency is really unique," Allen confessed. "We look at their production and go, 'How the hell are these guys making any money?' It's massive. So we're like, 'Okay', not wanting to compare ourselves or upstage what they're doing, but kind of taking a leaf out of their book and going, 'Let's make this really special.' We want people to go away with a lasting memory."
Watch Def Leppard Perform 'Promises'
Def Leppard Hits Vegas: The Sin City Residency will continue with dates stretching into September. Though some elements will stay the same from show to show, Elliott insists that each performance will be distinctive.
"We may not do the same show twice on this one," the singer admitted. "We've got a ton of songs we've not played for a long time and others we've never played live, so we're mixing those in with the ones that we couldn't get out of the room if we didn't play. We've never been scared of our hits. If you can't handle the responsibility of a hit, then don't write it."
Watch Def Leppard Perform 'Photograph'

Def Leppard Hits Vegas: The Sin City Residency, 8/14/19
Electric
1. "Die Hard the Hunter"
2. "Animal"
3. "Excitable"
4. "Promises"
5. "Foolin'"
6. "Slang"
7. "Billy's Got a Gun"
8. "Bringin' on the Heartbreak"
9. "Switch 625"
Acoustic
10. "Let Me Be the One"
11. "We Belong"
12. "Have You Ever Needed Someone So Bad"
13. "Two Steps Behind"
Electric
14. "Now"
15. "Rocket"
16. "Let's Get Rocked"
17. "Hysteria"
18. "Love Bites"
19. "Armageddon It"
20. "Pour Some Sugar on Me"
Encore
21. "Let's Go"
22. "Rock of Ages"
23. "Photograph"
The Best Song From Every Def Leppard Album