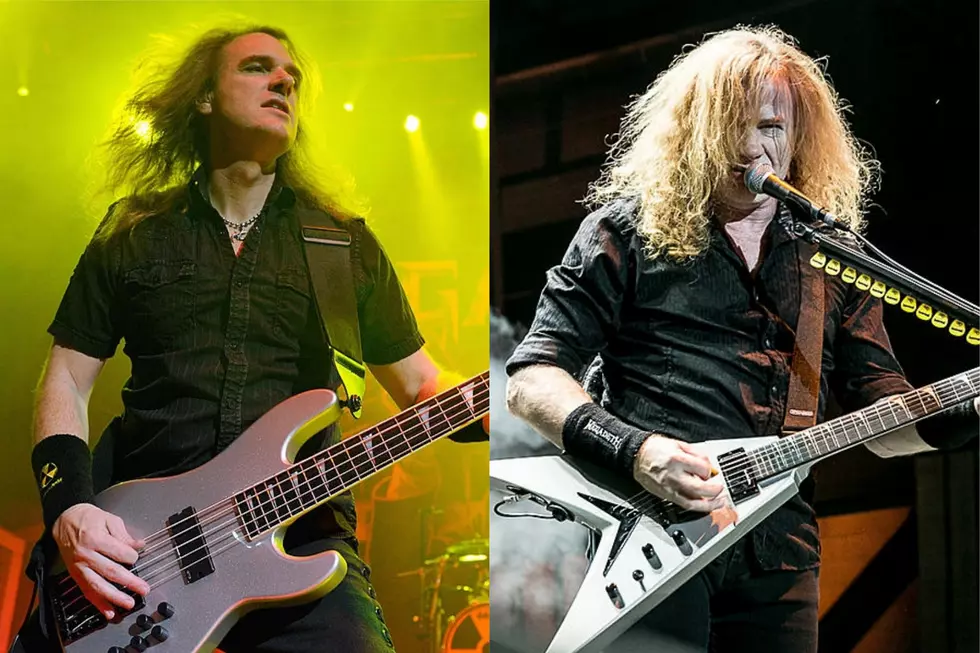 David Ellefson Talks Megadeth's Plans After Dave Mustaine Cancer Diagnosis
Ethan Miller, Getty Images / Kathy Flynn, WickedGoddessPhotography.com
The bassist also laid out tentative but "optimistic" plans for Megadeth's future in an up-to-the-minute interview with The Classic Metal Show.
It appears to be the first time Ellefson has spoken publicly following word that Mustaine was battling cancer. Meanwhile, the rock world reacted to the news of the Megadeth frontman's diagnosis with respectful encouragement. Within the group, however, Ellefson described band members figuratively "bracing for the bomb" prior to the announcement.
Hear the interview down toward the bottom of this post.
"We were kind of bracing for the bomb today knowing that we had to get an announcement out about it," Ellefson said. "Thoughts and prayers are always welcome. Dave has started his treatment. We've been in Nashville for the last almost month and a half working on the album, so we were sort of watching this all unfold before us. And Dave, he has begun treatment, so things are moving forward with that."
He continued, "[It] just became a reality where it was like, look, in order to do this treatment properly, follow the doctors orders, you know, Dave can't be undergoing treatment for cancer and out playing big rock concerts. We just had to say, alright, we gotta just stop. We gotta clear the deck and put this as the number-one priority, which is what the announcement was today. Just addressing it and giving everybody the heads-up that some shows are gonna have to go away until this all gets worked out."
However, one Megadeth event that isn't being cancelled is the upcoming Megacruise 2019, the group's first-ever music cruise that sets sail from Los Angeles Oct. 13, as Ellefson reported of the situation.
"We are keeping the cruise," he said. "The cruise, I think, is kind of a beast of a different nature because it's so many people on it. We may not totally know Megadeth's full participation in that until we see where Dave is at with healing after all the treatments and everything by that point. But we're optimistic that on some level, the band or band members — who knows, maybe even the whole band — can have participation on that. In the meantime, we've been working hard on the new album."
The new album that Ellefson referenced will be Megadeth's sixteenth studio effort. They're currently holed up in Franklin, Tennessee, working with engineer Chris Rakestraw on the follow-up to 2016's Dystopia.
See David Ellefson in the Top 66 Hard Rock + Metal Bassists of All Time