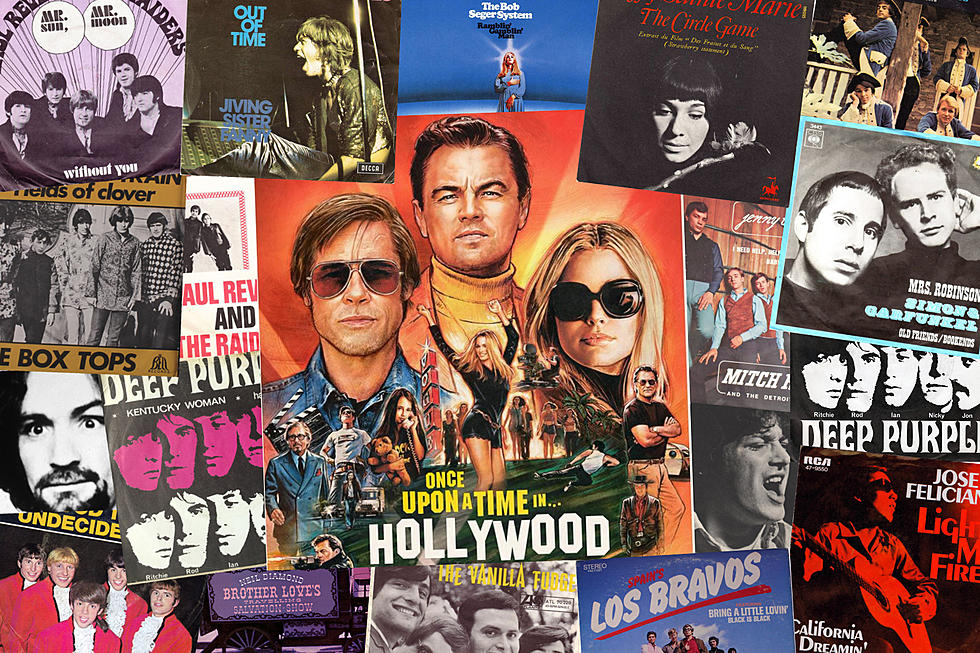 A Guide to the Music of 'Once Upon a Time in … Hollywood'
Sony Pictures / Uni / RCA / Columbia / EMI / Atlantic / A&M / Vanguard / Captiol / Decca/ Parrot Records / Bell Records / Parlophone / Tetragrammaton / California Department of Corrections
Over the course of his storied film career, director Quentin Tarantino has consistently utilized carefully curated soundtracks to accentuate his work.
Whether it's a Chuck Berry boogie eliciting dance moves in Pulp Fiction or "Stuck in the Middle With You" providing contrast to a torture scene in Reservoir Dogs, Tarantino's films always deliver a distinctive and well thought-out collection of songs.
In a booklet that accompanied The Tarantino Connection, a 1997 collection of soundtrack songs from his movies, the director explained that music often guides his cinematic choices. "One of the things I do when I am starting a movie, when I'm writing a movie or when I have an idea for a film is, I go through my record collection and just start playing songs, trying to find the personality of the movie, find the spirit of the movie," Tarantino revealed. "Then boom, eventually I'll hit one, two or three songs, or one song in particular: 'Oh, this will be a great opening-credit song.'"
The director went on to explain that's "one of the things about using music in movies that's so cool. If you do it right, if you use the right song, in the right scene ... really when you take songs and put them in a sequence in a movie right, it's about as cinematic a thing as you can do."
Set in '60s Los Angeles, the songs featured in Once Upon a Time in ... Hollywood include beloved hits of the era, as well as lesser known tracks. Check out our guide to some of the musical highlights.