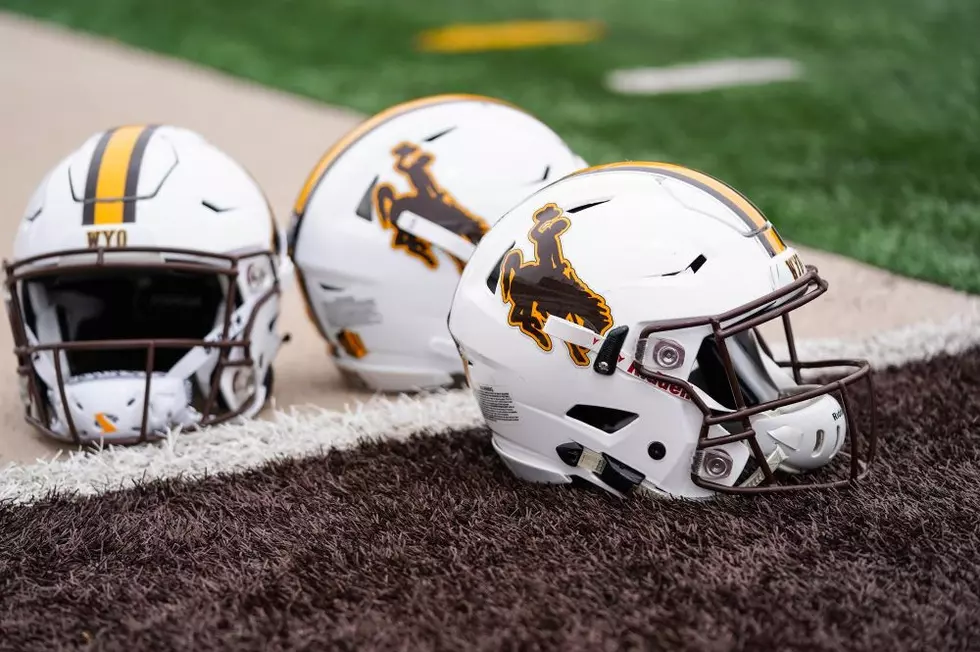 Wyoming football '22 recruiting headquarters
2022 Wyoming football recruiting headquarters./ DJ Johnson photo
LARAMIE -- The recruiting "dead period" for college coaches expired on June 1.
In Laramie, Wyoming head coach Craig Bohl and his staff have been taking full advantage, hosting official and unofficial visits for the first time in more than a year due to the COVID-19 pandemic. Football camps have been in full swing inside the indoor practice facility and around the nation, too.
If you pay any attention to Twitter, you've probably noticed Wyoming has thrown out plenty of offers for the 2022 recruiting class.
So far, 12 prep athletes have given Bohl and Co. their verbal commitment to join the Wyoming football program. Players can't officially sign with schools until the early signing day on Dec. 15.
The traditional signing day is set for Feb. 2, 2022.
*** UPDATED Dec. 7, 2021 ***
Defensive tackle Luke Roaten decommitted from the 2022 recruiting class Dec. 7. The Tomball, Texas, product said a "change within the coaching staff" was the reason behind it.
UW's former defensive tackles coach, Pete Kaligis, accepted the same position at Washington State last week.
*** UPDATED Dec. 14, 2021 ***
With less than 24 hours until signing day, Wyoming scoops up Texas offensive lineman Mykel Janise.
Let's see who the Cowboys have landed so far:
Caden Becker
Quarterback, 6-4, 225, Omaha, Nebraska
Omaha has been good to the Cowboys of late. Nebraska in general, really. Wyoming didn't recruit a quarterback in the 2021 class. That changed quickly this time around with Caden Becker. The Skutt Catholic product, who originally committed to Northern Illinois, flipped to UW back in late April. The dual-threat signal caller played in just a handful of games for Skutt in 2020 after transferring from Burke High School. He threw for 540 yards and rushed for another 541. Six touchdowns came through the air. Becker added seven more on the ground. 247sports.com lists Becker as a three-star recruit while Rivals.com gives him two stars. Becker also received interest from Iowa, Iowa State and South Dakota.
Isaac Schoenfeld
Tight end, 6-5, 220, Rock Springs, Wyoming
Schoenfeld became the Cowboys' first in-state recruit in mid-June. As a junior at Rock Springs High School, Schoenfeld racked up 610 receiving yards and hauled in seven touchdown passes for the Tigers. Those numbers earned him a spot on the All-State team. Schoenfeld will join a growing list of young tight ends in Laramie like Parker Christensen, Treyton Welch, Jackson Marcotte, Colin O'Brien and John Michael Gyllenborg. Schoenfeld, the top-rated tight end in Wyoming, earned a two-star rating from Rivals.com and three stars from 247sports. He helped lead the Tigers to the 2021 state title game inside War Memorial Stadium in November. He also received an offer from Montana State.
Koa McIntyre
Safety, 6-2, 199, Fremont, Nebraska
This safety from Nebraska turned down offers from Air Force, Army and North Dakota State, verbally committing to Wyoming in late June. Even his home-state Huskers kicked the tires. A pro-style quarterback at Archbishop Bergan in Freemont, McIntyre will transition to the safety spot in Laramie. And like Schoenfeld, will join a young group in the defensive backfield, who will be eventually tasked with replacing Esaias Gandy and Braden Smith. McIntyre received a two-star rating from Rivals and no stars from 247sports. As a QB, McIntyre threw for 2,205 yards and added 1,238 on the ground. He accounted for 31 touchdowns.
Cayden Hawkins
Linebacker, 6-2, 190, Highlands Ranch, Colorado
Wyoming signed just one player for the state of Colorado in its last class. That looks to be changing this time around. Cayden Hawkins, an outside linebacker from Valor Christian, verbally committed to the Cowboys in late June. He joins his high school teammate, Zaire Jackson, who was last year's lone commit to UW from south of the border. Rivals doesn't give Hawkins any stars and Wyoming is the only school listed that had interest in the junior. Hawkins was part of the 2020 state champion track team, taking gold in the 4x200.
Malique Singleton
Safety, 6-0, 180, Aurora, Colorado
No stars, no problem. Wyoming landed another Colorado commit already, this time it's Malique Singleton, a safety from Grandview High School. You might recognize a couple other Cowboys from that high school: Tanner and Gunner Gentry, Eddie Yarbrough and Mason Schultz. Colorado State and Wyoming are the only two schools listed as a showing interest in Singleton. He signed with the Cowboys in late June.
Rex Johnsen
Offensive tackle, 6-6, 281, Logan, Iowa
North Dakota and North Dakota State offered Johnsen out of Logan Magnolia Community School. Logan, a town with roughly 1,500 residents, is just northeast of Omaha and does play 11-man football. Iowa State and Nebraska also showed interest in Johnsen. "I really took a liking to Iowa State and Nebraska," he said. "But Wyoming felt like home and where I really wanted to go," Johnsen told kmaland.com. He was named a first-team Class A All-State offensive lineman and is listed as a two-star recruit by rivals.com
Jaden Williams
Defensive tackle, 6-4, 250, Inglewood, Calif.
According to Rivals.com, Wyoming is the only school to offer Jaden Williams. A quick glimpse at his Hudl highlights shows an overpowering force on the defensive front. This past October, Eric Sondheimer of the LA Times penned a column about Williams titled "Jaden Williams found himself after losing his mom." You can check that out right HERE. Through five games this fall, the story states, Williams was credited with 30 solo tackles and five sacks. He even returned a kick 70 yards for a touchdown. "He's quick for a lineman," Sondheimer writes.
Caleb Merritt
Wide receiver, 6-1, 181, St. Louis, MO
This senior wide out from John Burroughs High School in west St. Louis is a three-star recruit, according to rivals.com. That website says Merritt has received offers from six schools, including Power-5 programs Iowa, Kansas and Kansas State, as well as Ivy League schools, Dartmouth and Brown. 247sports.co lists Merritt as a three-star prospect. He committed to the Cowboys on Aug. 13. In the Post-Dispatch Super 30 countdown of the area's top prospects, Merritt was ranked No. 19 overall. Burroughs played just five games last fall due to the virus. Still, Merritt snagged 18 passes for 317 yards and three touchdowns. He also rushed for 219 yards and scored two more times. A two-way player, Merritt also picked off a pass and tallied 20 tackles from the cornerback spot.
Josh Dixon
Cornerback, 5-11, 170, McKinney, Texas
This two-star defensive back from the Dallas area also received interest from Air Force, Army, Navy and Liberty, among other schools. Dixon also plays basketball and runs track at McKinney High School. According to MxPreps.com, Dixon had six tackles and two pass break ups in a 35-28 victory over Har-Ber.
LJ Richardson
Running back, 6-2, 208, Bellevue, Neb.
Iowa State, Nebraska and Northern Illinois all showed interest in this big back from the Omaha area. LJ Richardson chose the Cowboys. The Bellevue West High School bell cow eclipsed the 2,000-yard rushing mark in mid-November. On Sept. 25, Richardson committed to Wyoming via Twitter, thanking the UW coaching staff for "not giving up on me and constantly recruiting me."
Jaylen Blizzard
Wide receiver, 5-11, 160, Calabasas, Calif.
Wyoming's first wide receiver commit in the 2022 class is Jaylen Blizzard from the northwest Los Angeles area. Film indicates that Blizzard is not only a pass catchers but can return kicks and punts. In 2018, he accounted for 30 touchdowns at Calabasas High School. The following year, Blizzard hauled in five touchdown passes and amassed more than 400 yards receiving. He played behind an Arizona State and Georgia commit. Both were 4-star recruits. Blizzard was also a member of the high school track team where he specialized in the 100-meter dash. The speed is obvious, but Blizzard also posted a video of himself on social media doing 305-pound deadlifts.
Mykel Janise
Offensive tackle, 6-4, 260, Beaumont, Texas
Wyoming added its second verbal commit to the offensive line Tuesday night, less than 24 hours before national signing day. Mykel Janise doesn't have any stars behind his name, but received interest from Louisiana Tech, Texas State and Mountain West foe, New Mexico. All four of those schools offered. Janise chose UW. The Beaumont Enterprise named Janise to the "Super Gold Team" as seasons end. Here's what the paper had to say about the big man: "Janise held down the left side for the Bruins at the tackle position. He didn't allow a sack, recorded 49 pancake blocks and graded above 90 percent in each game."
* We will continue to update this list as more announcements are made
POKES: The Seven Best Games In The History Of The Wyoming-CSU Border War Rivalry (Naturally, they were all Wyoming wins)