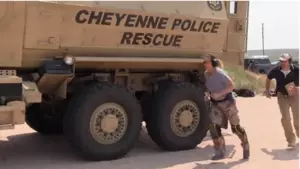 Wyoming, Get Ready To Lock 'N Load With Our Governor
Wyoming Business Council via Youtube
Last year's Magpul Governor's Match brought in top athletes for prizes and shooting bragging rights. The 2017 four-day event awarded $100,000 in prizes and pulled in a sizable group of 150 competitors.
Governor Matt Mead says the event can help diversify our economy with tourism and our firearms industry. The now Wyoming company, Magpul, sponsors this match which will be held in Cheyenne at The Otto Road Ranges in August.
"In Wyoming we value hunting, shooting sports and those events that promote excellence and appreciation of these skills. The event highlights our heritage through elite level competition."
No matter your skill level, this will be a "fast-paced, fun and friendly competition."
The Governor's Match will be August 4th-5th, 2018, at Cheyenne's Otto Road Shooting Range, 1531 Otto Rd.
This year's event will feature lower match fees along with the introduction of the United Multi-Gun League format.
MATCH FEE DUE ON OR BEFORE JUNE 1st
Match Registration opens on: January 23, 2018
Compete against or watch the best of the best!