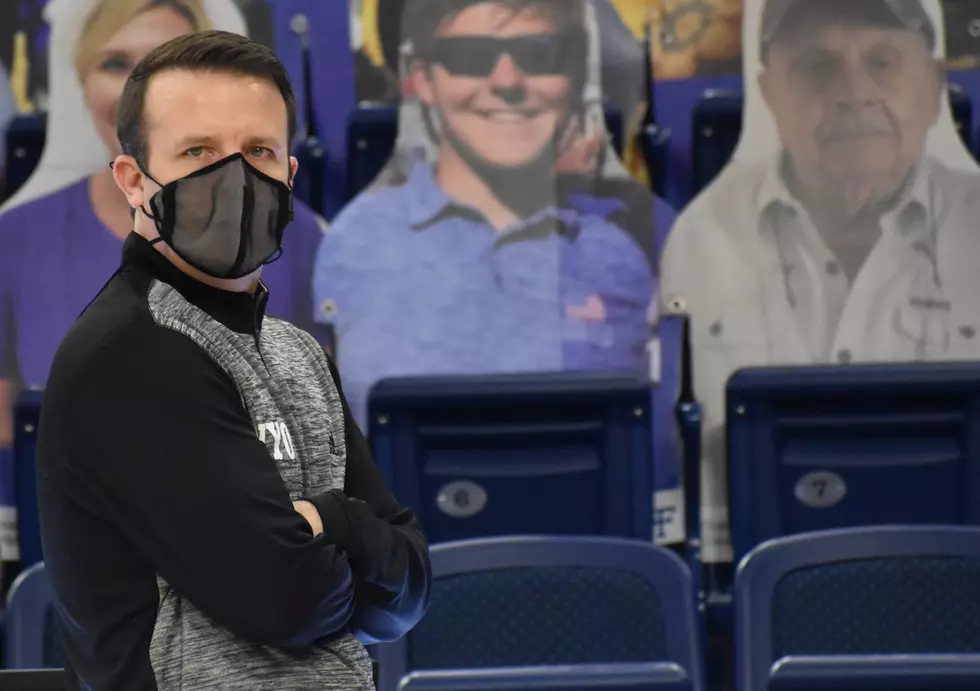 Ever wonder what a coach does after he's ejected?
UW head basketball coach Jeff Linder was ejected late in the first half of last Wednesday night's overtime victory over New Mexico./ UW courtesy photo
LARAMIE -- While you watched the Cowboys on your computer screen last Wednesday night, Jeff Linder's eyes were locked on the Jumbotron hanging high above the Cadet Ice Arena in Colorado Springs.
For five minutes -- and 23 agonizing seconds -- Wyoming's first-year head coach helplessly looked on from the bright blue bleachers. His team was in a dog fight with New Mexico.
Linder was in the dog house with Mountain West officials.
With exactly one minute remaining in the first half, he argued a foul call on Graham Ike at the other end of the floor. Whatever he said drew the ire of the guys in stripes and Linder was ejected from the contest.
"I don't think you ever get an official word," Linder joked with reporters Tuesday during his weekly press conference, adding that refs never told him why he got the gate. "At the end of the day, it is what it is. They don't have to give an explanation."
As Linder made his way to the visiting locker room, New Mexico shooters toed the free-throw line for six consecutive shots. Two came courtesy of Ike's foul. The other four, and another offensive possession for the Lobos, belonged to Linder.
New Mexico made just two buckets. Wyoming entered the half with a four-point lead thanks to a Hunter Thompson triple and a last-second lay-in from Drake Jeffries.
As the Pokes and Lobos traded blows throughout the final 20 minutes of regulation, Linder sat in an equipment room deep in the bowels of Clune Arena watching a television set.
"He was he was very gracious," Linder said of the Air Force equipment manager who let him hang out in his office.
MORE UW HOOPS NEWS
* Mountain West tacks two games onto Pokes' schedule
* PODCAST: Chattin' with the Big Cat
* MW announces there will be no fans at league tourney
* Enter to win Wyoming basketball tickets
The set up was fine, but Linder said the TV feed was lagging behind the action that was taking place on the court. He couldn't deal with that, especially with the game tied at 71-71 thanks to a big three-pointer from New Mexico's Javonte Johnson.
Wyoming called a timeout with 23 ticks remaining.
Linder bolted for the adjoining Air Force hockey rink where the game was on the big screen, and more importantly, without a streaming delay.
Alone he watched as Thompson hit his fourth three of the night and Marcus Williams and Kwane Marble combined to sink seven free throws in overtime to ice the game for the Cowboys.
The 83-74 win snapped a four-game losing streak.
Ken DeWeese, who served as the head coach throughout the final 26 minutes, joked postgame that Linder's ejection was one of the quicker ones he'd seen in his career.
"It was a straight ejection, no warning," he said with a laugh.
Linder said Tuesday that he got the "double whammy" with those two technical fouls.
"You come home and just get that look," he said when asked if he got the wrath of his wife, Kelli Linder, after the game. "You might as well sleep on the couch."
All kidding aside, Linder said don't get used to seeing him get tossed. It's not something he's proud of and he added "it's not good for anybody." Through his first 21 games as the bench boss in Laramie, Linder has already received four technical fouls.
Passion? Yeah, that's undeniable. Plus, Linder said he wants his players to know he's right there fighting with him.
Just don't expect his inner Bobby Knight to surface often.
"Those days are over," he said with a smile. "And I haven't won 1,000 games like Bobby Knight either."
See the Must-Drive Roads in Every State