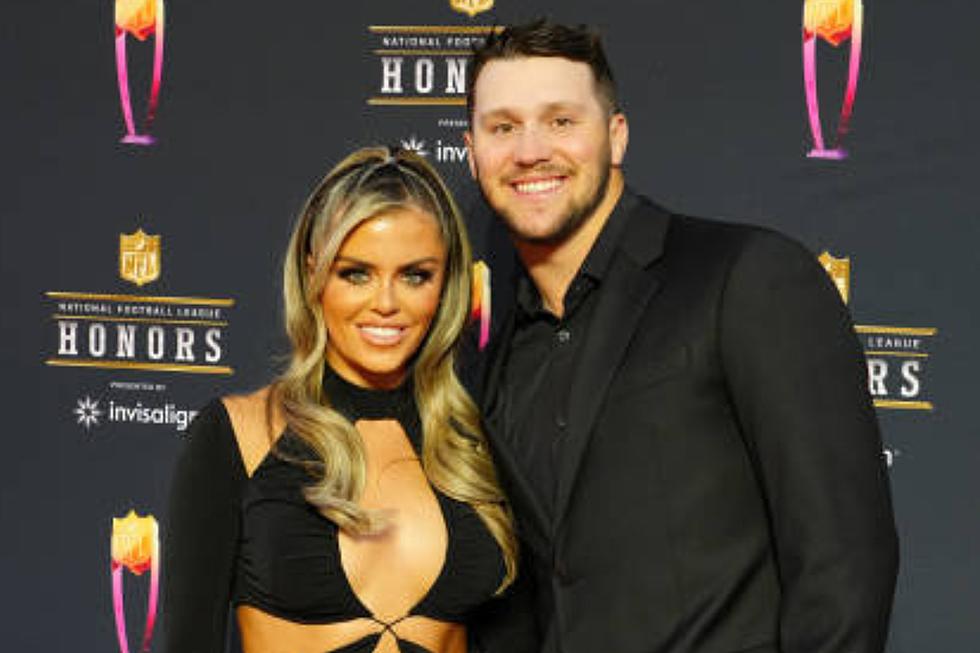 Wanna See What Josh Allen Gave His GF For Valentine's Day?
Getty Images/Canva
Sorry, not sorry… we're not ashamed to admit it. 
Josh Allen and his girlfriend, Brittany Willams, are really stinking cute.
The star QB and his longtime love, who first met as kids and have been dating publicly since 2017,  have been making us starry-eyed for years now. Brittany often shares sweet snaps of the couple on social media and is often seen at Bills games sporting her man's number 17. 
When we think about local Buffalo celebrity couples, Brittany and Josh are near the top of the list. So, of course, Bills fans wanted to see what the famous duo would do to profess their love on the ultimate day of romance - Valentine's Day.
Thanks to Williams' social media, her followers could get a peak at the adorableness through her Instagram stories. From selfies to a look at what Allen gifted Williams on the big day, her photos let us get a small glimpse of their life as a couple. 
First, Brittany posted a gorgeous shot of a bouquet of long-stem roses that were clearly given to her to celebrate Valentine's Day by her Bills' star beau.
We're not sure if the tulips in the background were a gift as well, but they're still gorgeous. You've got to admit, this couple has a good flower game.
Then, we get to see a smiling pic of Josh and Brittany enjoying a horseback ride in the countryside of Jackson Hole, Wyoming  (yeah, we know it's not Buffalo, but we love to see it anyway).
The almost-matching white cowboy hats are almost the most endearing part (especially the way Josh is tipping his), until you read the caption.
These two are clearly super into each other, and the third pic that Brittany posted shows it the most.
"Blessed to do life with my best friend. I love you so much. Us against the world."
We're not crying - you're crying.
However, we've gotta admit, it looks like Brittany saved her best and favorite Valentine to show off on her Instagram Stories for last…
We're glad you had a great Valentine's Day, Josh and Brittany (and Sky)! Thanks for giving us Bills fans couple goals to shoot for.
Amazing Shirts Any Bills Fan Will Love As A Gift
Whatever your style - classic, retro, funny, or chic - these shirts that you can get on Etsy are way better than the basic Bills merch in the team store.
One Sentence That Will Immediately Enrage Buffalo Bills Fans [LIST]
Disclaimer: If you're a Buffalo Bills fan and feeling slightly annoyed today, you're about to fly off the handle.
15 Things You Should Never Do at a Bills Home Game
Things that are a no-no to do at a Buffalo Bills home game.