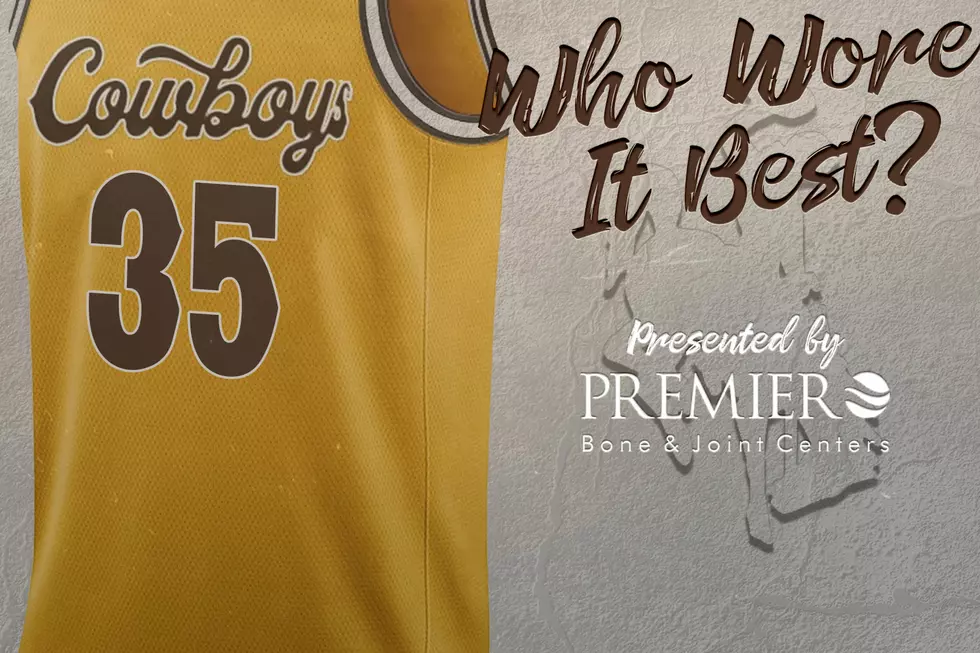 Which Wyoming hoopster wore it best? No. 35
Jen Kost graphic
LARAMIE -- Do you ever see a number on a Wyoming basketball jersey and think of all the great players to wear it?
Yeah, me too.
In this summer series, I'll give you my take on which Pokes' hoopster was the best ever to don each number. The criteria are simple: How did he perform at UW? What kind of impact did he have on the program?
No. 35 - JERON ROBERTS
Guard/ forward, 1995-98, Covina, Calif.
Résumé in Laramie
* 112 games played at UW
* 88 starts
* 14.3 points per game
* One of 38 players in UW history to eclipse the 1,000-point mark
* Ninth all-time in points scored (1,599)
* 10th all-time in 3-point attempts (416)
* Sixth all-time in made free throws (507)
* Fifth all-time in free-throw attempts (678)
* NIT appearance 1998
* First-Team All-WAC selection in 1998
* Two-time WAC Player of the Week
Why Roberts?
These Cowboys should've been better.
The talent was there. The wins, well, those were sporadic.
That certainly wasn't Jeron Roberts' fault. The 6-foot-3 forward-turned-guard was a model of consistency during the Joby Wright era. These squads included the likes of Theo Ratliff, HL Coleman, Ladrell Whitehead, Gregg Sawyer and others, yet the Cowboys hovered around the .500 mark during Roberts first three seasons on campus.
The California product poured in a career average of 14.3 points per game, but he saved his best for last, netting 19 a night as a senior during the 1997-98 campaign. That was his first season playing for newly hired head coach Larry Shyatt.
That was also the first time Wyoming finished with a winning record during his career.
The Cowboys rolled to a 19-9 record and finished with a 9-5 record in WAC play. That was good enough for a third-place finish behind Utah and New Mexico. It was also good enough for a berth in the National Invitational Tournament.
Roberts earned First-Team All-Conference honors that season. During a road game at UTEP, he splashed all 20 of his free-throw attempts in a win over the Miners, which is still a school record and good enough for the fifth-best performance in NCAA history.
UW faced West Coast Conference champion Gonzaga inside the Arena-Auditorium in the opening round of the NIT. It didn't go to plan. The Pokes fell to the Bulldogs, 69-55.
That was end of Roberts' playing days in Laramie, but he had plenty of basketball ahead of him. He played 14 seasons overseas, making pit stops in five countries. Roberts, who eventually earned his degree from UW in 2013, went on to become a college basketball coach.
In 2015, Roberts returned to campus for the first time in nearly two decades, serving as the head coach of Bristol University (Anaheim, Calif.). His former team was not very welcoming, smashing the Bears, 101-62.
Who else wore No. 35
Ken Chase (50's), Bill French (60's), Gordon Swanson (60's), Gary Meckelburg (60's), Randy Richardson (60's), Kent Johnson (60's), Steve Mountjoy (60's), Ted Roney (60's), Mike Jackson (80's), Mike Amundson (80's), Daylen Harrison (00's)
Look who wore the No. 34 best right HERE.
Check out our "Who Wore it Best" football series right HERE.
* All available rosters provided by the University of Wyoming Athletics Department. If we missed a player who wore this number, please email cody@7220sports.com
* A number of players wore different jersey numbers during their careers. From the 1930's through the 50's, players were issued a home and an away jersey.
LOOK: Pokes' unis through the years