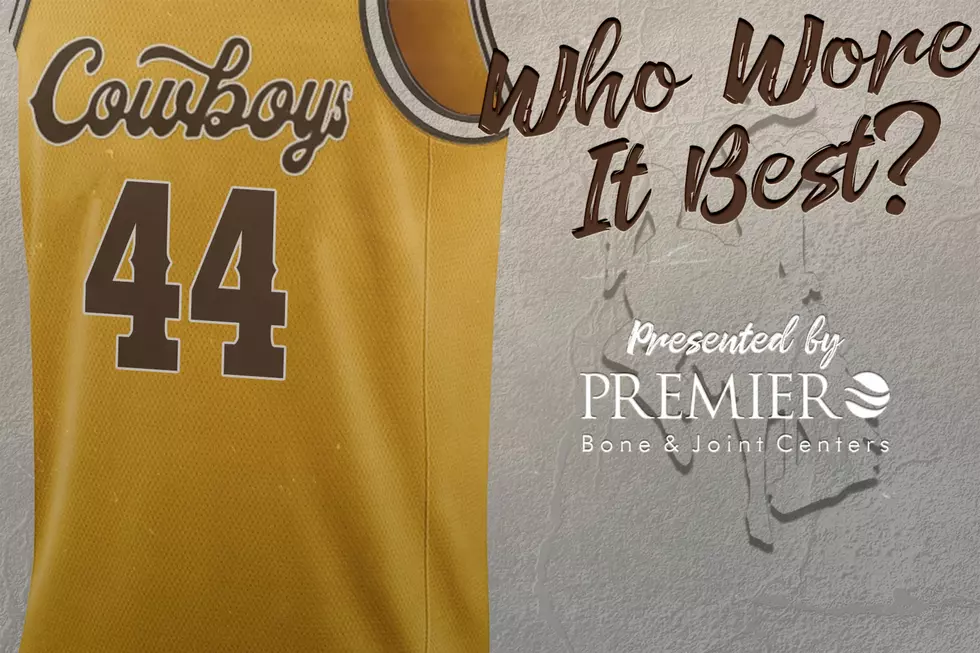 Which Wyoming hoopster wore it best? No. 44
Jen Kost graphic
LARAMIE -- Do you ever see a number on a Wyoming basketball jersey and think of all the great players to wear it?
Yeah, me too.
In this summer series, I'll give you my take on which Pokes' hoopster was the best ever to don each number. The criteria are simple: How did he perform at UW? What kind of impact did he have on the program?
THE DECISION
Unlike our selections for No. 42 (Theo Ratliff) and 43 (Eric Leckner), this one wasn't such an easy decision.
So, we created a Twitter poll.
Who was the best Wyoming basketball player to ever wear the No. 44 jersey: Stan Dodds, Bill Garnett or Marcus Bailey?
All three are in the UW Athletics Hall of Fame. All three are former all-conference selections. All three led their team to the postseason.
If it was up to the folks on Twitter -- more than 400 votes in two days -- Bailey wins this thing in a landslide. However, how many folks who actually watched Garnett (1978-82) play, let alone Dodds, who suited up for the Cowboys in the late 60's, are on the bird app? Probably not many.
So, how did we ultimately decide who was the best? We didn't. That trio is all getting a nod here.
Let's start with the elder statesman, Dodds.
The Green River Product will forever be considered one of the top pure shooters to ever wear the brown and gold. The 6-foot-4 forward averaged 16.7 points per game during his three-year career in Laramie. His consistency from the field went like this:.558, .569 and .560, respectively. That's really good.
Dodds is one of 38 players in UW history to eclipse the 1,000-point mark. He did all of that without the assistance of a 3-point line. Could you imagine if there was one back then and freshman played on the varsity team? Dodds could've been in rarified air with the likes of Fennis Dembo, Brandon Ewing, Justin James and Flynn Robinson in the scoring category.
To the surprise of no one, Dodds led the WAC in field-goal percentage twice during his UW tenure. Arizona State was on the receiving end of that during the 1970 season when Dodds netted 45 points in a 112-94 victory over the Sun Devils. He made 19 shots that day, which is the second-most in program history. That point total is still the fifth-best single-game performance.
As a senior, Dodds was named to the all-conference team. In 2006, he was enshrined into the UW Athletics Hall of Fame.
Garnett is the highest drafted player -- in any sport -- in Wyoming history. Think about that for a second? The Dallas Mavericks selected the 6-foot-9 forward fourth overall in the 1982 NBA Draft after he averaged 13.9 points and 7.3 rebounds per season over his four seasons in Laramie.
Garnett, who was named an All-American by the U.S. Basketball Writers and the Sporting News in 1982, also claimed WAC Player of the Year honors that season. The Denver product is also a member of UW's All-Century Team, joining the likes of Kenny Sailors, Charles Bradley, Leckner, Reggie Slater and others.
Twice Garnett helped lead the Cowboys to the NCAA Tournament. In '81, UW knocked off Howard in the opening round before dropping a 67-65 heartbreaker to Illinois. The following season, Garnett and Co. beat USC in Round 1 before running into Patrick Ewing and Georgetown in the second game of the Big Dance. The Pokes fell, 51-43.
Garnett, who was inducted into the UW Athletics Hall of Fame in 2001, played four seasons in the NBA for the Mavericks and the Pacers. He then took his act overseas for four more before becoming a college coach. Garnett played 300 NBA games and scored 1,638 points.
Oh, what could have been.
When Bailey suffered a career-ending knee injury during the 2002-03 season, it was one of those moments Wyoming fans unfortunately will never forget. The Cheyenne product was a beloved hometown figure. You knew you were witnessing greatness, punctuated with a humble grace.
Bailey, like Garnett, was named to Wyoming's All-Century Team. Twice he earned All-Mountain West First Team honors.
Bailey, a 6-foot-5 forward, averaged 13.4 points per game, but it was his calm demeanor during the big moments that really set him apart. Without some heroics from Bailey, maybe the Cowboys don't go on to upset Gonzaga in the opening round of the 2002 NCAA Tournament. That at-large bid was solidified when Bailey drained a game-tying 3-pointer against Air Force with just four ticks remaining in the first game of the Mountain West Tournament.
The Cowboys may not have won the regular-season title without a pair of clutch, last-second free throws to knock off Utah inside the Arena-Auditorium just days prior.
Who is the best player to ever wear the No. 44 jersey? How about you make that decision for yourself? You can't go wrong with any of these guys.
Who else wore No. 44
Clarence Lively (50's), Richard Bowers (60's), Steve Frenchik (60's), Ken Collins (60's), Mike Larkin (70's), Steve Rea (70's), Steve Chervinskas (70's), Craig Shanor (70's), Bruce Roehrkasse (70's), Bobby Traylor (90's), Jeff Allen (90's), Tyrell Williams (10's)
Look who wore the No. 43 best right HERE.
Check out our "Who Wore it Best" football series right HERE.
* All available rosters provided by the University of Wyoming Athletics Department. If we missed a player who wore this number, please email cody@7220sports.com
* A number of players wore different jersey numbers during their careers. From the 1930's through the 50's, players were issued a home and an away jersey.
Relive the special moments from the Wyoming Cowboys 2021-22 basketball season
Jeff Linder's Cowboys arrived ahead of schedule last season, posting a 25-9 overall record and a 13-5 mark in Mountain West play. For the 16th time in program history, Wyoming also punched its ticket to the NCAA Tournament. Relive some of the moments that got them there right here.
Wyoming lands in 16th NCAA Tournament
Dome of Doom