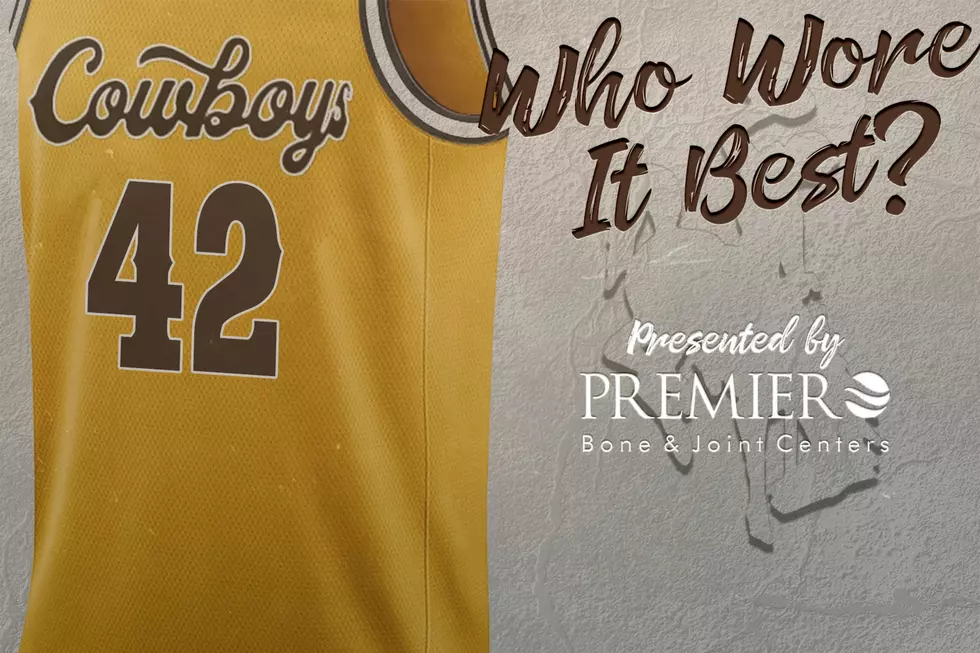 Which Wyoming hoopster wore it best? No. 42
Jen Kost graphic
LARAMIE -- Do you ever see a number on a Wyoming basketball jersey and think of all the great players to wear it?
Yeah, me too.
In this summer series, I'll give you my take on which Pokes' hoopster was the best ever to don each number. The criteria are simple: How did he perform at UW? What kind of impact did he have on the program?
No. 42 - THEO RATLIFF
Forward, 1992-95, Demopolis, Alabama
Résumé in Laramie
* 111 games played at UW
* 78 games started
* 10.3 points per game
* One of 38 UW players to score 1,000-plus points
* 425 shots blocked (school record)
* 3.8 blocks per game (second in UW history)
* One of three players in UW history with a triple-double
* .547 field-goal percentage (seventh in UW history)
* Two-time First-Team All-WAC selection (1993-94, 1994-95)
* Two-time WAC Player of the Week
* First round selection in the 1995 NBA Draft
* UW Athletics Hall of Fame inductee in 2005
Why Ratliff?
Shelden Williams, Hasheem Thabeet and Shaquille O'Neal.
What do those three college basketball legends all have in common? They are staring up at Theo Ratliff in the NCAA's all-time shots blocked category.
The Alabama product swatted 425 shots during his four-year career in Laramie. That's the best mark in school and Western Athletic Conference history. He currently sits in 14th place in the record books despite not playing college basketball in nearly three decades.
Justin Williams, who played just two seasons at UW, finished with 244 blocks. Al Herndon is in a distant third with 184. Williams owns the school's single-season record with 163, but you can find Ratliff's name in the next three slots.
Twice the 6-foot-10 forward rejected 11 shots in a game. Those record-breaking days came against Mississippi State and rival BYU in 1994. On four occasions, Ratliff blocked nine shots in a game.
Once, he finished with 10. That was a special night.
Ratliff netted 20 points, pulled down a dozen rebounds and reached double digits in blocked shots in a 64-56 victory over San Diego State in the 1995 WAC opener in Laramie. That night, the senior became the first player in UW history to land a triple-double. Only Williams and Hunter Maldonado have accomplished that in a Cowboys uniform.
"It was really good to see Ratliff play like he did," UW head coach Joby Wright told the Associated Press after the game. "He was trying to send a message that he is ready to play. I'm expecting him to have a monster year."
Ratliff did. The Cowboys, not so much.
Wyoming finished the season 13-15 overall with a mark of 9-9 in league play. Ratliff blocked a career-high 144 shots and averaged 14.4 points per game en route to being named a First Team All-WAC selection for the second consecutive season.
The Detroit Pistons selected Ratliff 18th overall in the first round of the 1995 NBA Draft. During his 16-year career, Ratliff played for Detroit, Philadelphia, Atlanta, Portland, Boston and Minnesota before returning to the Motor City and the City of Brotherly Love. He wrapped up his career with stops in San Antonio, Charlotte and Los Angeles.
Ratliff was named an NBA All-Star in 2001, the first of three times he was leading shot blocker in the league. Twice he was named to the NBA All-Defensive Team.
Ratliff was inducted into the UW Athletics Hall of Fame in 2005. The Pokes locker room inside the Arena-Auditorium is named after him.
Who else wore No. 42
Joe Jolly (50's), Ronald Bostick (60's), Jim Dalton (60's), Don Hatten (60's), Jim Moeller (60's), George Peck (60's), Gary Von Krosigk (60's), Jim Gabel (60's), Sam Ballard (70's), Henry Bailey (70's), Delbert McDonald (70's), Ken Vecchio (70's), Bruce Roehrkasse (70's), Tim Daniel (80's), Quinn Wirth (80's), Sly Johnson (90's), Antone Lostetter (90's),
You may have noticed we didn't have a selection for No. 40 and 41. These are the players who wore those jersey numbers in Laramie:
No. 40: John Korthonen (50's), Ken Rochlitz (60's), Ron Rochlitz (60's), Paul Rayko (60's), Cliff Nelson (60's), Terry Childers (60's), Mike Bannister (60's), Bob Romanski (70's), Mike Larkin (70's), Ken Morgan Clark (70's), John Lenander (70's), David Brown (70's), Dwight McClendon (70's), Tim Hunt (80's), Mike Maloney (80's), Jeff Allen (90's), Justin French (90's), Daaron Brown (00's), KC Henry (10's), Ben Bowen (20's)
No. 41: John Korthonen (50's), Ken Rochlitz (60's), Ron Rochlitz (60's), Paul Rayko (60's), Cliff Nelson (60's), Terry Childers (60's), Mike Bannister (60's), Bob Romanski (70's), Jon Woolley (90's)
Look who wore the No. 35 best right HERE.
Check out our "Who Wore it Best" football series right HERE.
* All available rosters provided by the University of Wyoming Athletics Department. If we missed a player who wore this number, please email cody@7220sports.com
* A number of players wore different jersey numbers during their careers. From the 1930's through the 50's, players were issued a home and an away jersey.
Relive the special moments from the Wyoming Cowboys 2021-22 basketball season
Jeff Linder's Cowboys arrived ahead of schedule last season, posting a 25-9 overall record and a 13-5 mark in Mountain West play. For the 16th time in program history, Wyoming also punched its ticket to the NCAA Tournament. Relive some of the moments that got them there right here.