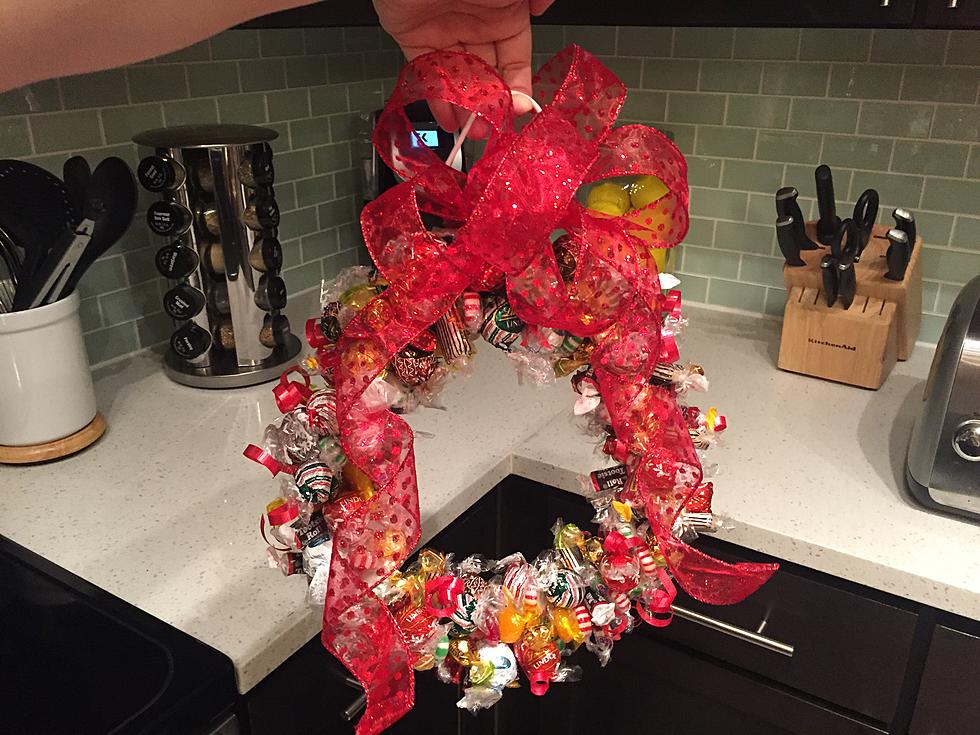 How to Make a Super Easy Candy Wreath for Christmas [PHOTOS]
@MissRadioJess
This candy wreath is a show-stopper and it couldn't be easier to make.
A few years ago my grandmother taught me how to make this super easy candy wreath. Who doesn't love a sweet treat around the holidays? Not only is this wreath festive and delicious, it makes for a great centerpiece or topic of conversation at your next holiday gathering.
They also make great gifts!
First you need a thick wire hanger. You can use the hanger in its entirety, but the candy may weight it down and make you wreath oblong. My grandma cuts the wire hanger with wire cutters and then glues the bottom pieces on top of each other with a hot glue gun. This give you the ability to customize the size and shape of your wreath. I've also heard that children's metal hangers work great as well since they are smaller.
You will also need a ton of wrapped candy. This candy is the only one that will work because of the wrapper tails. You'll see why in a minute.
Next, tie a piece of ribbon around the top of the hanger. Make sure your knot is tight.
From there, you will grab candy piece by piece and place the tail of the candy on the hanger. Wrap the ribbon around the candy wrapper and hanger, and pull it tight. While holding the first piece of candy, repeat the process with the next piece of candy and the next moving clockwise around the hanger. Continue wrapping the ribbon around the wire and the candy until your wreath is complete.
I recommend that you start with about a foot of ribbon. If you have too much ribbon it will seem impossible to keep threading it through the center of the wreath. Once you near the end of your first piece of ribbon, just tie on another piece. Don't worry about an ugly knot because the candy will just cover it up anyway. Plus, any ribbon sticking out can either be curled or cut when you're finished.
You want the candy to bunch up. Feel free to push the candy together each time while also pulling the ribbon tight. You'll notice that the candy will find where it fits without you having to move them too much. If you see gaps as you go along, you can double back with the ribbon and fill in with more candy.
Don't feel that you are stuck wrapping until you fall over. If you need to take a break, just grab a clothes pin or a small chip clip and clip your ribbon against the hanger. Grandma and I did this before we had lunch.
When you reach the top of the hanger again, tie off your ribbon. From here you can get creative with the finishing touches. I added a large bow to the top of mine. Add more ribbon, bells, tinsel, etc. Whatever your heart desires.
Get creative with the candy you choose. We picked random goodies for our wreaths, but you could easily color coordinate with different wrappers or even create a pattern with the candies you choose. Again, this is a creative project so have fun with it!