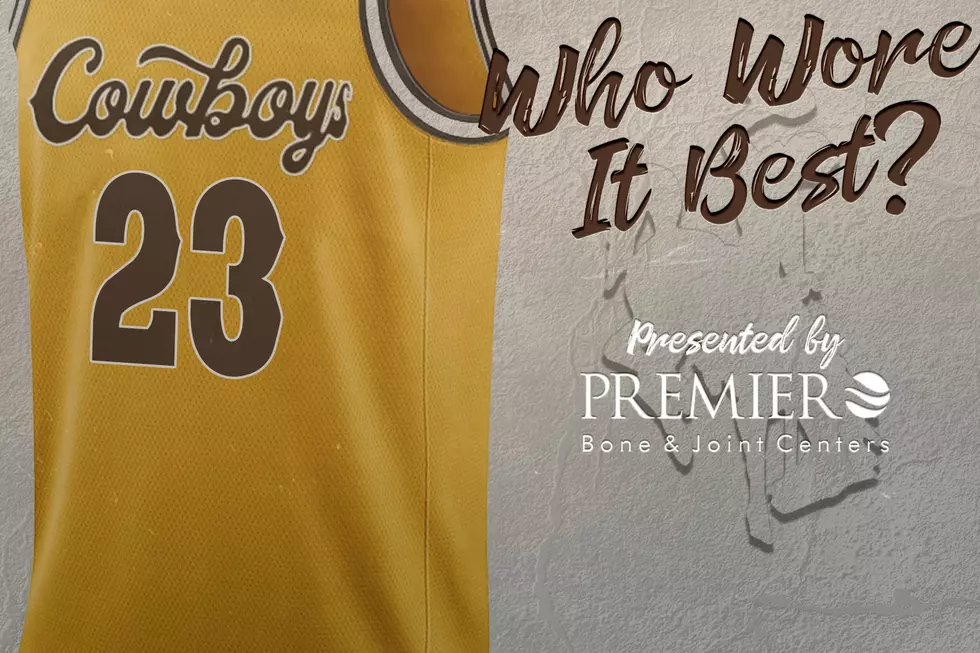 Which Wyoming hoopster wore it best? No. 23
Jen Kost graphic
LARAMIE -- Do you ever see a number on a Wyoming basketball jersey and think of all the great players to wear it?
Yeah, me too.
In this summer series, I'll give you my take on which Pokes' hoopster was the best ever to don each number. The criteria are simple: How did he perform at UW? What kind of impact did he have on the program?
No. 23 - BRANDON EWING
Guard, 2005-09, Chicago, Ill.
Résumé in Laramie
* 126 games played at UW
* 17.2 points per game
* 2,168 career points (Second in UW history)
* 471 career assists (Third in UW history)
* 161 career steals (Third in UW history)
* Led MW in scoring three times
* Youngest Cowboy to score 1,000 points
* Third-Team All-Mountain West (2005-06)
* Second-Team All-Mountain West (2006-07)
* Second-Team All-Mountain West (2007-08)
* First-Team All-Mountain West (2008-09)
* Two-time MW All-Tournament Team (2005-06, 2008-09)
* UW Athletics Hall of Fame selection 2020-21
Why Ewing?
It was an improbable run to the Mountain West Tournament title game in 2006.
It was also the coming-out party for a young freshman from Chicago who was attempting to fill the shoes left behind by another native of the Windy City, Jason Straight.
Wyoming entered that tourney inside Denver's Pepsi Center on a six-game losing streak. Three of those were by two points or less. That made the Pokes a dangerous foe in the Mile High City.
Brandon Ewing made that perception a reality.
During that late-season swoon, the Cowboys point guard scored 100 points, averaging 16.6 per outing.
In the opening game against an NCAA-Tournament bound Air Force squad, Ewing netted just 12 points, eight of which came at the free-throw line on a perfect night from the stripe. UW, the seventh seed, pulled off the stunner, 57-55.
More Cowboys fans made the trip down I-25 for the semifinal matchup with Utah.
Ewing netted 17 in that 60-47 upset, which was highlighted by Justin Williams' triple-double that included 10 points, 15 rebounds and a school record 12 blocked shots.
In front of a raucous brown-and-gold clad crowd in downtown Denver, Wyoming took on Brandon Heath, Marcus Slaughter and the high-flying, top-ranked San Diego State Aztecs.
The Cowboys had the momentum and a late four-point lead. Heath, the then-leading scorer in conference history, missed 20 of his first 27 shots -- until that final two-minute span and the overtime to follow. He hit a runner, a jumper and sank two free throws to give the Aztecs a late lead. Brad Jones drilled a pair of pressure-packed freebies to send the game into the extra frame.
In the end, SDSU simply had too much fire power, led by Heath's eight OT points. Ewing finished with a team-high 22 and was selected to the All-MW Tournament Team.
The Cowboys had a new star on the roster.
All he did over the next three seasons was become the second-leading scorer in program history, finishing just 143 points behind Fennis Dembo. He led the league in scoring three times. He was a four-time All-Conference selection. Ewing was the youngest player in UW history to score 1,000 points, reaching that feat by the end of his sophomore campaign.
In 2020-21, Ewing was inducted into the UW Athletics Hall of Fame.
Honorable mention
There weren't many deep threats in UW history more dangerous than Jason McManamen.
The Torrington sniper, who played 123 games in Laramie from 2012-17, is still the program's leader in 3-point field goals made with 210, 17 ahead of that guy in the story above. McManamen even attempted 35 fewer shots from beyond the arc.
Who else wore No. 23
Gary Hall (50's), Rolle Cahalane (50's), Robert Hanson (60's), Gordon Westhoff (60's), Harry Hall (60's), Willie Roberson (60's), Brian Rewers (80's, 90's), Paris Bryant (90's), HL Coleman (90's), Mark Curry (90's), Scottie Vines (00's), David Adams (00's)
Look who wore the No. 22 best right HERE.
Check out our "Who Wore it Best" football series right HERE.
* All available rosters provided by the University of Wyoming Athletics Department. If we missed a player who wore this number, please email cody@7220sports.com
* A number of players wore different jersey numbers during their careers. From the 1930's through the 50's, players were issued a home and an away jersey.
UW vs. Hastings